Panama 2009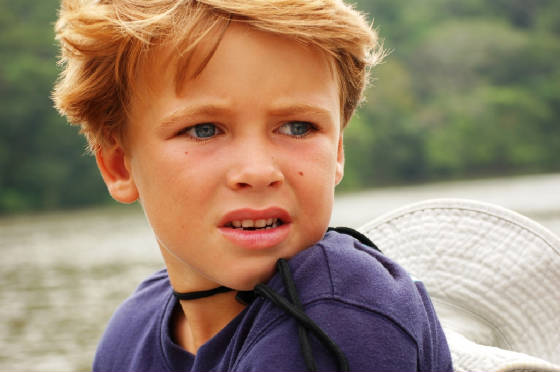 Alden keeping watch in the Rio Chagres
17 May 2009; GPS 10° 32'N 080°25'W; We departed Rio Chagres this morning at about 0800 and motored into light winds and sloppy seas. After dinner tonight, the wind has come up and veered to NNE and we're now sailing close hauled in eight knots of wind, not quite making our course to Isla Providencia, but good enough to save some diesel fuel and enjoy the quiet, star-filled night. It's 285 nautical miles from Rio Chagres to Providencia and we may continue on towards Roatan and simply sail by this Columbian Island if the weather stays settled. With a month and a half left before Charlotte gets loaded onto a truck in Texas, we need to cover some miles. Let's go back to the Rio Chagres and talk about that adventure.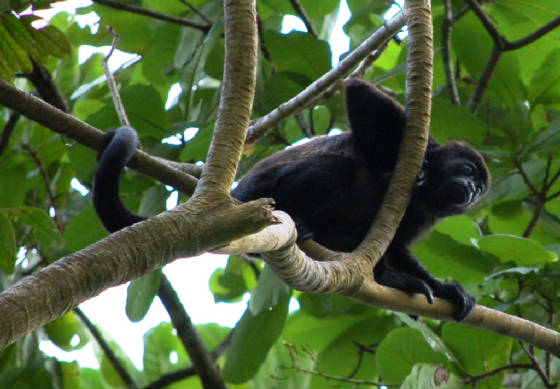 Howler Monkey
We had heard from a half dozen cruisers that the Rio Chagres was a "must visit." Where is this place? The mouth of the river is only six miles west of the Colon breakwater. The Chagres provides all the water for the Panama Canal. It starts in the mountains east of the canal, flows into Gatun Lake, out of a dam at the north side of Gatun Lake, and then winds six miles to the sea. During the days of Spanish New World plundering, the Chagres was a main travel route across the Panamanian Isthmus. It remained a very strategic thoroughfare up until the Panama Railroad was built. Now it's a national park with far more howler monkeys than humans. At the river's mouth stands Fort San Lorenzo, built by the Spaniards in the sixteenth century to guard the river.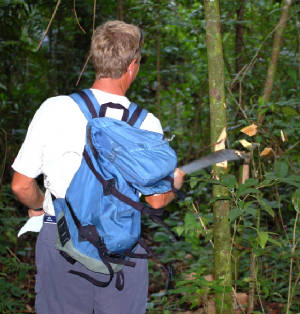 Clearing path through the jungle
Birdnests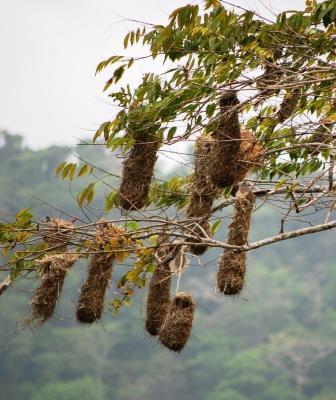 We departed Colon and Shelter Bay Marina on the afternoon of the 14th. It was difficult to unplug the shorepower cord after three nights of air conditioned, wonderful sleep. A two hour sail around the Colon breakwater and west along the Panamanian coast brought us to the river mouth. Watching the guidebook sketch and fathometer, we managed to sneak over the bar with plenty of water to spare. Once inside the river, depth ranged from thirty to fifty feet in perfectly flat water. The river is about four hundred feet across, all the way up to the Gatun Dam. Towering jungle trees drop fifty to one hundred feet to the water's edge. It felt like an African safari, motoring up the river. After rounding the last bend and spying Gatun Dam, we joined three other sailboats at anchor. As the sun set, howler monkeys and tropical birds provided a chorus to the otherwise still night air. Our night's sleep was broken by passing showers beginning a routine we danced each evening between closing hatches during rain showers and opening them for ventilation as the showers passed; now we see why so many cruisers have canvas deck covers in this region.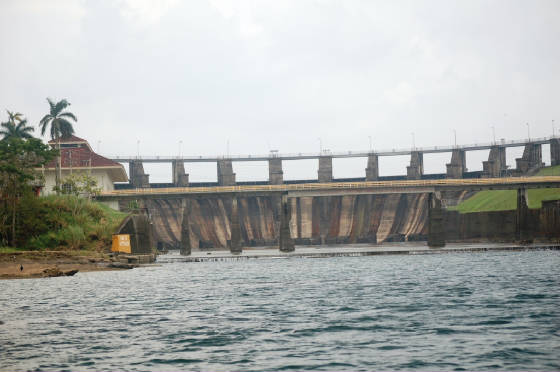 Gatun Dam from Rio Chagres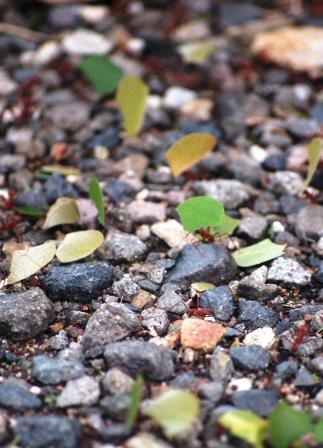 Leaf cutter ants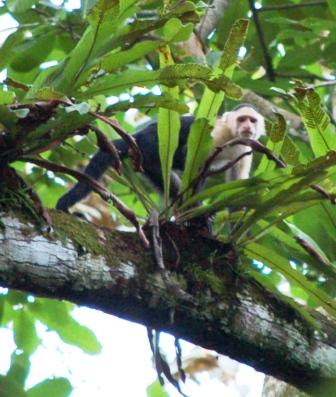 Capuchin monkey
The following morning we attended to boat maintenance and school before setting out in the dingy to explore. We ventured up one small river and then beached near the Gatun Dam spillway. Alden and Kirsten walked up past the power station, across a bridge over the spillway and to a vista point overlooking Gatun Lake. We then motored to a small wooden dock near our anchorage to walk some of the trails. The area is reported to have a lot of trails left over from the days when it was used by the U.S. Army for jungle training. With the exception of the trail we were walking, we had a difficult time finding other trails in the dense jungle alongside the river. This trail provided access to the road in one direction. We headed the opposite direction along an old railroad bed to glimpse some wildlife. Armed with machete, I hacked away at the ever enchroaching flora to keep the trail clear. After a half mile, we stumbled on a massive colony of leaf cutter ants. Watching them carry huge loads over great distances along their cleared pathways back to the nest is an impressive display of industry, teamwork and ant society. Another mile down the trail and with evening approaching, we turned around. Soon we could hear the crash of limbs and branches which revealed an advancing troop of howler monkeys. With binoculars and zoom camera lens we watched them for about ten minutes before moving on. Another half mile down, we observed a family of Capuchin monkeys eating fresh fruit from a massive tree.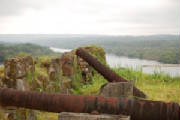 Fort San Lorenzo-Rio Chagres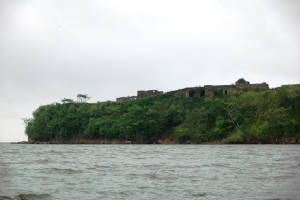 Fort San Lorenzo-Rio Chagres
On the 16th we decided to explore some of the small tributary rivers flowing into the Chagres after visiting Fort San Lorenzo. We shifted anchorages back down river to within a mile of the mouth. Recall that it's now rainy season in Panama and passing showers remained with us most of the day. We dinghied two miles out the river mouth and around the high promontory where Fort San Lorenzo stands guard. We landed on a small beach and hiked two hundred feet up a slippry slope to the Fort. Built in the 1500's by Spaniards, this fort was destroyed twice by the Sir Francis Drake and then Admiral Vernon. Enough stone structure and cannons remain to provide a glimpse of the river's historical importance.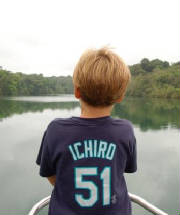 Ichiro on the Rio Chagres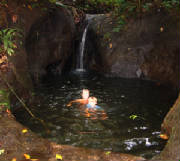 Fountain of Youth-Rio Chagres
Our afternoon mission was to find the "fountain of youth." Other cruisers had told us the approximate location of this spot where a freshwater stream was reported to tumble down into some swimming pools. We searched along the shore and into a few of the streams and small rivers but were turned around each time by shoals and fallen trees. As we prepared to call it a day and return to Charlotte, we spied one small indent in the jungle-shrouded river bank, just a quarter mile from our anchored position. With the engine tilted up, we piloted into the narrow opening, around some mangroves and spied the stream. Indeed fresh water spilled over some rocks and down into some hot tub-sized pools just above the river level. I imagined that this was a very important watering hole for sailors and explorers hundreds of years ago. We striped off our sweaty clothes and enjoyed plunging into this cool, fresh water pool; refreshing, isolated, and timeless.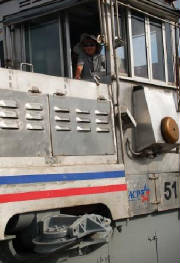 Alden driving mule at Gatun Locks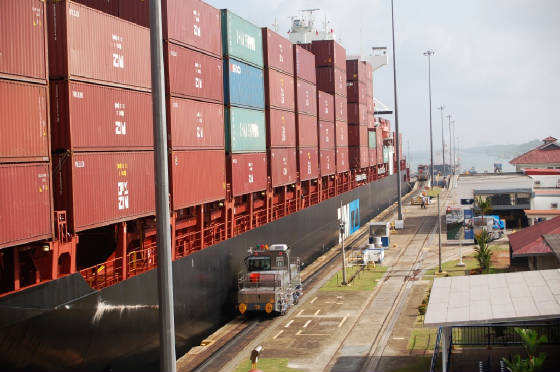 Ship transiting Gatun Locks-Panama Canal
12 May 2009;Docked Shelter Bay Marina, Colon, Panama; We've arrived yesterday at this nautical crossroad after a day sail to the old town of Portobelo and a morning sail through the big Colon breakwater. Everywhere are large and small ships waiting to transit the Panama Canal. We had not planned to stop in Colon but the convenience and cost of provisions and a desire to visit the locks has sent us westward. We hired an agent to take care of our customs paperwork while we visited the large and modern Rey's grocery store where most supplies are less expensive than in the U.S. Shelter Bay graciously supplies a shuttle bus for the half-hour trip to Colon. This modern marina at the north side of the harbor is on the grounds of the now-defunct U.S. Fort Sherman. Modern and clean, there is a pool and hamburger joint. We've spent time here with our friends Don and Priscilla of Chataqua who are preparing to transit the canal. Alden has spent plenty of time in the pool. Today we visited the Gatun locks and spent an hour watching huge containerships and tankers rise ninety feet from sea level to Gatun lake. A wonderful woman guide of Chinese-Panamanian descent provided us with fantastic operational, economical, political, historical and social info about Panama and the canal. Today we'll depart Colon and sail eight miles west to the Rio Chagres River for a few days of jungle viewing. Saturday we'll head north towards Isla Providencia and Honduras.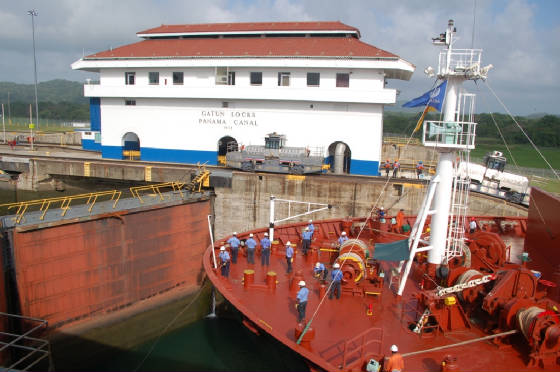 Gatun Locks-Panama Canal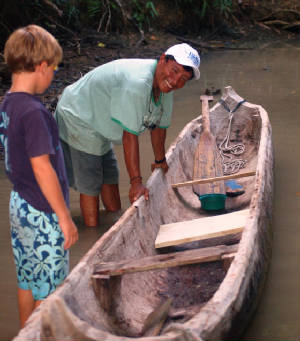 Justino and his ulu
9 May 2009; Anchored Gerti Island, Robeson Group, Kuna Yala, Panama; We decided to visit a Kuna Village and Isla Gerti was recommended by many seasoned San Blas cruisers as a traditional Kuna Village. We departed the East Lemons and enjoyed a comfortable beam reach in ten knots of wind 13nm to the Western Gulf of San Blas and the Robesons where Isla Gerti lies closest to the mainland. Five other islands stretch along the chain, each covered with thatched Kuna huts. Green and white flags were flying at each village and we wondered what they were for. We later found out they were flags for the two Panamanian presidential candidates. A new Panamanian president, Martinelli, had just been elected the week before. Even though the Kuna are self governing in their comarca of Kuna Yala, they remain active in Panamanian national politics. After anchoring, we were greeted by ulu after ulu; some selling produce, some selling molas, and some with curious children looking for a "bastia" or sweet. We managed to give away some coloring books and lots of cookies. One traditionally dressed Kuna woman kept pointing to our genoa sheets and we finally figured out she wanted some line. Luckily we had been saving some old docklines and she was jubilant to receive one.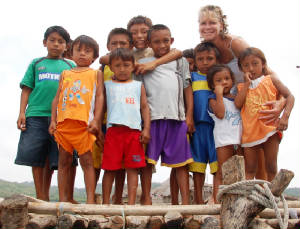 Kirsten and Isla Gertie Kids
After lunch, we were met by Justino a Kuna who speaks English and Spanish, does lots of work on yachts ($25 per day) and also guides local river trips. We had met Justino and his son out at the East Lemons a week ago doing work on Southern Belle. At 1430, we piled into Justino's recently-carved out ulu for a trip up the Rio Torti. Immediately we learned that ulu's are extremely tippy. Way more than the familiar Coleman canoe or sea kayak. We gained a whole new level of appreciation for the Kuna's skills with these traditional craft. Young and old villages paddle, sail and motor these carved out logs all over Kuna Yala in all conditions. They must gain a sense of balance and control at a very young age. Alden and I took turns helping Justino paddle from the anchorage to the Rio Torti entrance and then another mile up the mangrove lined river. Villagers use this river to access farms and fresh water. At the head of navigation, they collect fresh water in containers. All water used on the Robesons comes from the river and ulus are constantly going back and forth with young and old paddlers to keep the village supplied. Bathing and laundry are done just downstream of where the fresh water is gathered. After beaching the ulu, we walked a half mile through farms of bananas, pineapples, mangoes and other tropical fruits. We also visited the village's cemetery where the dead are buried in their hammocks, first above the ground and later beneath the ground.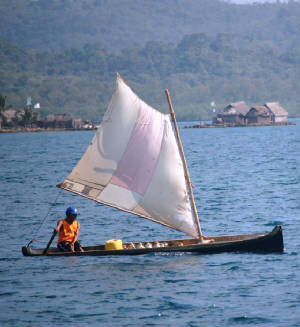 Sailing Ulu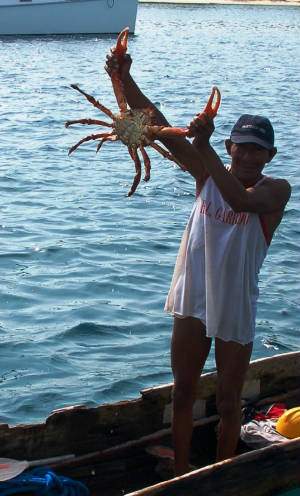 Coral Crab at Chicheme
After returning to the village, we paid a visit and anchoring fee to the Shaila, or village chief. We then viewed the three-room concrete block school and met one of the teachers. We also bought fresh Kuna bread from the store. Justino then brought us to his house at the adjacent island where we met his family. All of the houses are thatched huts with dirt floors. Everyone sleeps in hammocks with small children sharing their parent's hammocks. Smiling kids accompanied us everywhere. Women were dressed in colorful, traditional Kuna dress while the men and children wore more modern clothes. There were plenty of dogs and cats roaming around. Many of the villages had parrots and parakeets as pets. We saw only one solar-powered light in the village. Returning to our boat, we couldn't help notice how quiet and dark the village was after sunset. The traditional Kuna live from sunrise to sunset. They are frequently laughing and seem very happy going about their work and play without the complications of modern society. The following morning we again visited Isla Gerti, purchased more bread and molas. Alden donated a few tee shirts and old shoes to Justino's son. Returning to Charlotte, we were met by an albino man (there is a very high rate of albinism in San Blas) and his small daughter. He had paddled a good two miles in their small ulu to sell molas. By that time we were pretty well stocked up on molas so we gave him a tee shirt for his daughter, some colorful cloth to make more molas, and old dock line for his ulu. Though disappointed not to sell molas, he was very happy to receive the gifts. That afternoon, we motored twelve miles northeast to Isla Chichme, the northernmost, outer island in Kuna Yala.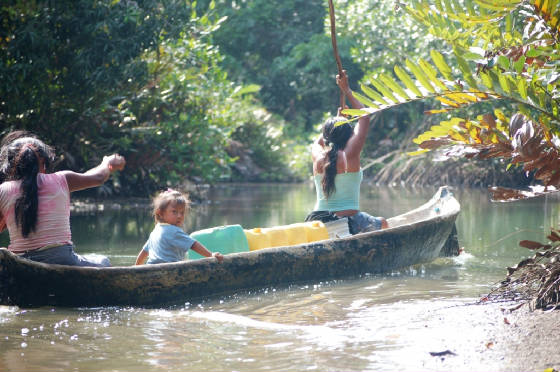 Villagers from Isla Gerti getting water up the Rio Torti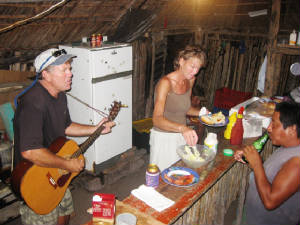 Burger Night at Mr. G's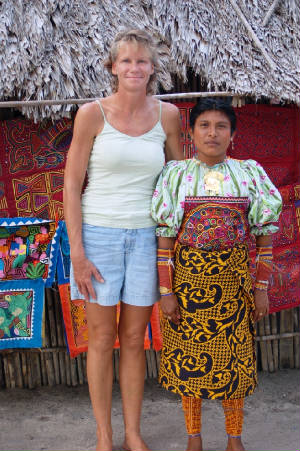 Lydia Molamaker on Banedup
7 May 2009 Anchored in the Western Hollandes, Kuna Yala, San Blas Islands of Panama- We have been here for just over a week and it's been a very leisurely life with lots of swimming, snorkeling, and socializing. We connected with three other kid boats on our second day here and have followed them around to various islands in the area. Southern Belle is a Fontaine Pajot 43 foot catamaran with George, Melinda and eight year old Joshua aboard. They've been cruising for the last two years from Los Angeles to the Panama Canal. Toucan is a 37 foot Prout catamaran with Michael, Mary, Noah, Aba, and Lydia who left Florida two years ago and has come down through the Bahamas and eastern Caribbean. Island Time is a steel schooner hailing from Mt. Hood, Oregon with Bob, Marjorie, and 12 year old Alex aboard. They cruise for six months each year in the western Caribbean. It's been great fun having the kids play together on the beach or aboard one of the boats. Usually that ends up being the large catamaran Southern Belle with its huge cockpit and trampolines. This is one of the hazards of cruising on a spacious catamaran. You end up hosting all of the parties. As we've been in the outer Island groups, we've had little interaction with the Kuna Indians. They do make their way out in ulus (dugout canoes) to tend their coconut farms. There are also trading boats that visit various outer islands about once each week so that cruisers can purchase vegetables, fruit, gas, and even diesel fuel. There is a good sized cruising community that spends their whole year or at least many months at just a few of the outer island groups here in Kuna Yala. Yesterday we anchored in the Eastern Hollandes in an area known as the swimming pool. With a sandy bottom about eight feet deep and absolutely no wind, it looked like a swimming pool. And, the water temperature is about eighty four degrees. I took advantage of the calm seas to go spearfishing with two other cruisers over by the Hallberg Rassy wreck. A series of canyons and caves provided perfect habitat for schools of yellow snapper and other large fish. I still remain unsuccessful in the spearfishing pursuit. Today we will probably head towards the coast and visit a Kuna village before returning to the more comfortable outer islands where bugs are few, winds are cooling, and the water clear. On Saturday well make our way towards Colon to provision, get internet access, and prepare for the overnight trip to San Andreas.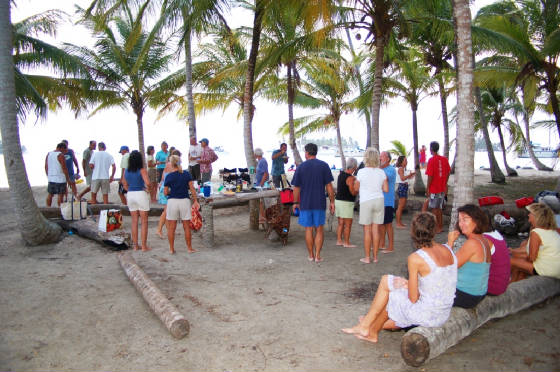 Cruiser's Party Eastern Lemons
Vernancio Master Mola Maker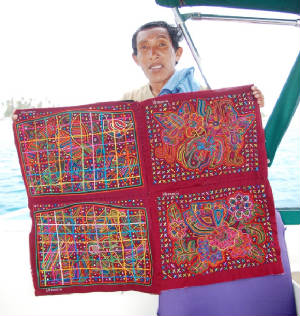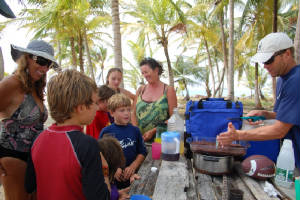 Mary from "Toucan"'s Birthday Party
29 April 2009-Cocos Bandero Cays, San Blas Islands, Panama- We arrived at 1300 on the 27th after a 28 hour sail from Cartagena. It's difficult to describe these islands. There are well over three hundred coconut tree-covered, sandy islands surrounded by clear water and reefs, lots of reefs, and more reefs. Luckily the water is clear enough that one can see the reefs and shallows. Do not attempt to navigate these waters at night! What this all means is that it's an amazing place to cruise with hundreds of sheltered anchorages. There are four other boats here anchored between the small islands of Tiadup and Ordupbanedup. The water temperature is 82 degrees. Just warm enough to cool off but not cool enough for wetsuits while snorkeling. Right now visibility both in the air and water is a bit hazy. We are only able to see about fifteen feet as waves crash through and over the outer reefs. We've walked around the three closest islands. Alden has deemed them playgrounds with areas of fallen coconut trees to climb on, under and around. Yesterday we were visited by Kuna Indians from the island of Mormake Tupu. Rolando, Prinscetta, and their four year old daughter had motored out in their dugout canoe to sell the ubiquitous molas. We invited them aboard and sat them down in the cockpit with juice. Priscetta was dressed in the traditional, colorful Kuna women's clothes. Alden donated a box of crayons and a sketch book to the little girl. After viewing some fifty Molas, Kirsten settled on four to purchase. I'm sure we'll see more Mola vendors before we depart the San Blas. We had feared a lack of supplies here in these remote islands. But, these fears are ill found as we've been approached by over a half dozen dugouts selling fish, eggs, rum, vegetables, water, Kuna bread, and various other items. We learned a quick lesson yesterday while purchasing some bananas and bread from one Kuna. He quickly jumped aboard to deliver his goods, demanded juice when offered water, and then, when departing, asked for a gallon of gasoline to make it back to his village. Being new to the area, we said O.K. One gallon turned into two as he siphoned off our outboard tank. He was then quickly away to the other anchored boats while I was left scratching my head and thinking that he didn't offer at least more bananas or bread for the gas. Next time I'll be ready. The cruising community here is pretty well established with an SSB radio net each morning at 0830 to provide weather, security, social and other information. We've made contact with another boat having an eight year old boy and heard a few other kid boats that we'll try to connect with while here. Our dilemma right now is deciding which island to visit next. Today, after breakfast, we will heave up the anchor, wend our way out through the reefs, and head for a new island to explore.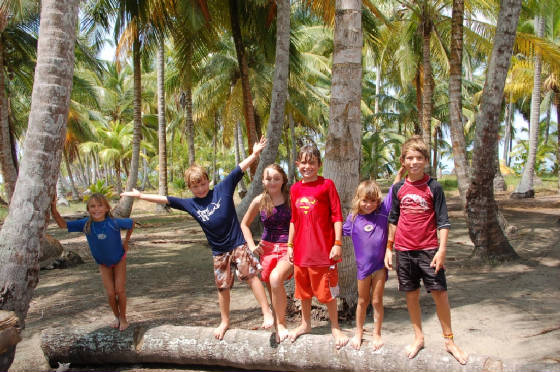 Cruising Kids in Eastern Lemon Cays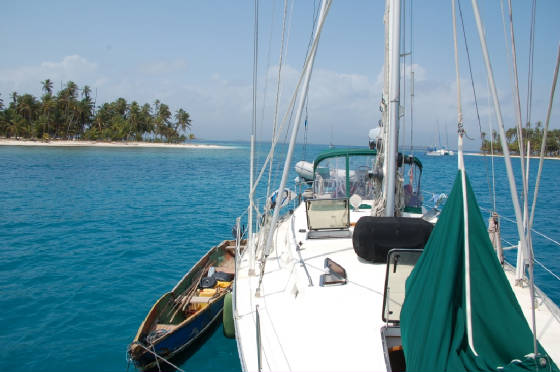 Coco Banderas Cays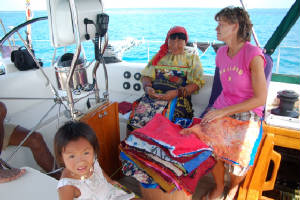 Shopping for Molas at Coco Banderas
26 April 2009 2200 GPS 09 50N 077 07W-about halfway between Cartagena and the San Blas Islands, Panama- It's a dark night with only the sliver of a moon having set at 1930. The starlight is helping although it's now getting cloudy. Were moving along nicely, broad reaching in 20 to 25 knots of northeasterly wind. Boat speed is averaging about eight with some surges above ten knots. The autopilot is holding her on course quite well. Our Nobletec navigation software says we`ve got 85nm to go to the San Blas Islands. If our speed holds, we should arrive before lunch tomorrow with good sun to allow piloting through the coral reefs. We`re really looking forward to spending a week or more in these islands. Kirsten and Alden are both sleeping right now. Alden struggled with keeping his food down today. A little behind on his seasickness meds, I thrice deployed our saltwater wash down hose to clean up the leeward rail. He remains in good spirits in spite of motion sickness. He spent the day listening to The Adventures of Huckleberry Finn on the IPod/cockpit speakers. We departed from the Isla Rosario Islands this morning after spending the night at anchor there. Yesterday we left Cartagena and motored/sailed 21nm south to this island group. Once anchored, we spent the afternoon cleaning Charlotte's bottom and one anchor line used for Med Mooring in Cartagena. We thoroughly enjoyed our time in Cartagena but after ten days at Club Nautico, it was definitely time to move on. Esteban Perez delivered new cockpit cushions as promised at 1900 on the 24th and they look great. Manfred, our customs agent, obtained our zarpe and outbound customs clearance. Kirsten did one finally shopping trip at the well-stocked Carulla market just a block from the marina. It was with very refreshing to exit Boca Chica channel from Cartagena and once again reach clear ocean water.
Cartagena Columbia 2009
Folk dancers
Museo de La Inquisicion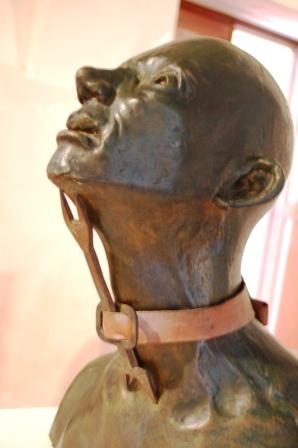 22 April 2009-Still moored at Club Nautico- We've now settled into a nice, easy routine here in the city. On our first full day here, I walked to the Avenue Pedro Heredia where every conceivable mechanical/electrical/paint/repair type shop and store can be found. I was able to purchase a tank of Freon to top up our salon air conditioning system. We're incredibly thankful to have working air conditioning while here in the marina. It's so hot, humid, and dusty here that we'd be very uncomfortable without it. Now, we're able to close up the boat, cool off the interior, and sleep like babies all night long. Surely the best sleep I've had in months. Alden and Kirsten have been schooling in the mornings and we've spent the afternoons walking around town. We've visited the Museo de Oro(Gold Museum), Museo de la Inquisicion(Inquisition Museum), Fuerte de San Filipe, and spent many hours walking the centuries old streets of the old city and Getsemani area.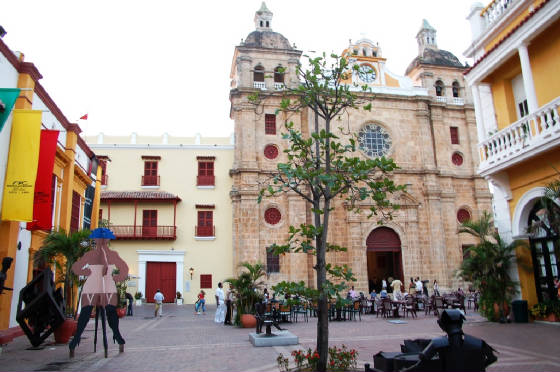 Plaza de San Pedro de Claver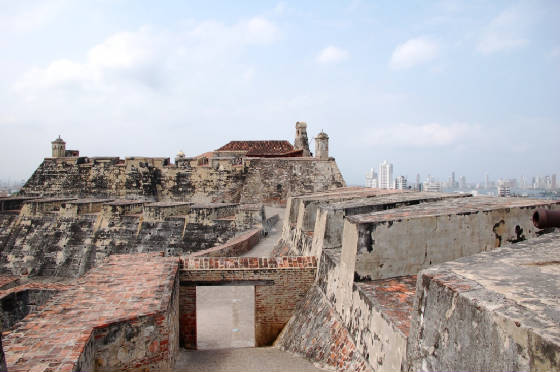 Fuerte de San Filipe
Another fine dining experience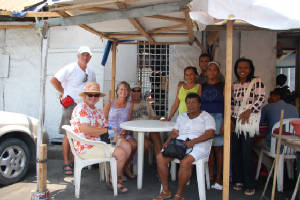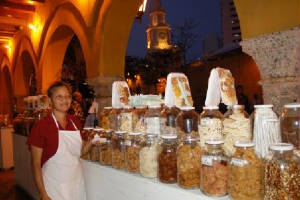 Sweets for desert
We should note that dining here is very affordable. Last night we joined friends John and Priscilla off the Shannon 38 "Chataqua" for an outing to the Museo de Naval and then dinner out. After touring the museum, we walked to Plaza Santo Domingo and had a drink at one of the many open air cafes. While there we were serenaded by street musicians and humored by a mine. All expecting reasonable compensation for their talents which they clearly indicate with laminated price sheets after they've performed; beware the unsuspecting tourist. We then walked a half mile through the vendor strangled alleys and streets of San Diego to the La Matuna neighborhood where Kirsten and Priscilla had found a great local restaurant a day earlier. We sat down to a wonderful and very inexpensive dinner. Lunch and dinner typically consists of a soup with yam, rice, beans, salad, plantain, and a dozen fish, chicken, or beef dishes along with a sugar cane/water drink; all of this for only 5000 pesos or about two dollars. It's hard to justify cooking and eating aboard the boat while here. We've also all had haircuts, dry cleaned a rug, done laundry, and are having new cockpit cushions made.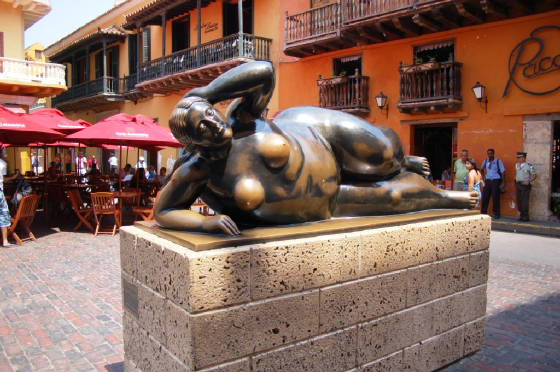 Fernando Botero sculpture in Plaza Santo Domingo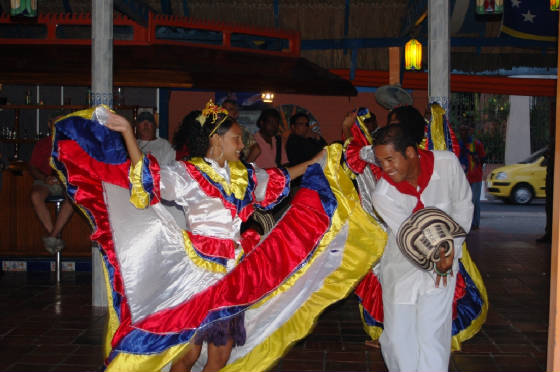 Cumana folk dancers at Club Nautico happy hour
shaved ice the old fashioned way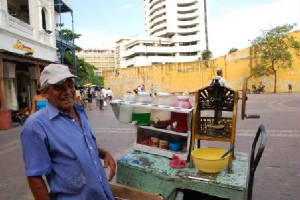 shops in the old jail cells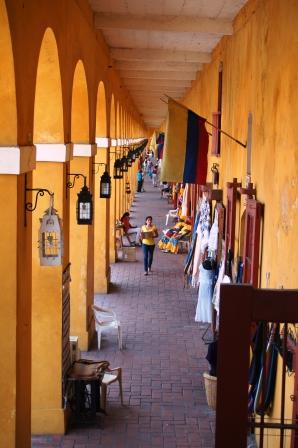 14 April 2009-Moored Club Nautico, Cartagena de Indias, Columbia- We've arrived after an exciting passage from Boniare. We departed Bonaire at 1330 on the 11th after clearing out of Bonaire customs, returning our rental truck, taking one last clear-water swim, and having lunch. After letting go the mooring we immediately shut down the engine as winds were from the east at twenty knots. Once clear of Klein Bonaire, we poled out the genoa, rigged a preventer on the mainsail and altered course for the south end of Curacao. At 1800 with the setting sun, we gybed to starboard and altered course to the northwest to bring us between Aruba and the Menorjes Islands of Venezuela. For the next two days we enjoyed easy downwind sailing in 10 to 15 knots of wind. We caught one small tuna which was steaked, vacuum bagged, and frozen. With the freezer full of fish we put our lines away. On the 12th at 1645 we passed close enough to Punta Galinas at the top of South America to clearly see the small light tower then altered course for Columbia's Cabo Vela.
Entering Cartagena at Boca Grande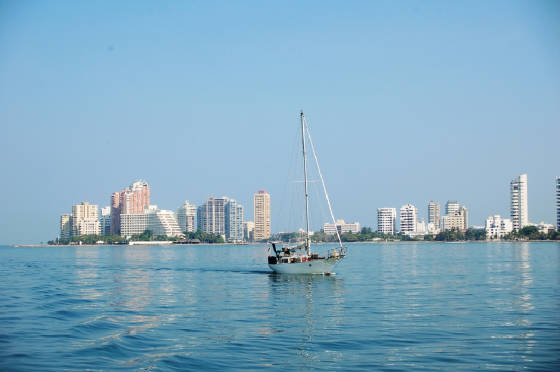 That evening the moon rose at 2200 as the winds dropped to twelve knots. At about 0300 Alden, who had been sleeping on the stb settee in the salon woke up yelling, "It's raining, it's raining." Up on deck Mike and I knew there were no clouds and certainly no rain. Descending to the salon, I could hear the flapping of wings and was surprised to see a small flying fish fluttering about the cabin sole. He had jumped through the hatch above Alden's head and landed on the sleeping six year old. Alden was soon back asleep after brushing off some lost scales. Later that morning we were able to see the snow covered Sierra Santa Marta through the clouds and haze. These 18,000' high mountains are very cool to see when sailing in such warm waters. At 1700 we came abeam of the Five Bays and spied these sheltered anchorages through binoculars but chose to push on for Cartagena. Soon after, the infamous Columbia coast winds and seas began building, eventually reaching a steady 30 knots with gusts to forty-five and steep seas rising to ten feet. It was great to have Uncle Mike aboard for these conditions as we shortened sail, stowed the spinnaker pole, and dealt with a sticking autopilot solenoid. It was a tiring evening but "Charlotte" handled the conditions very well.
The flying fish that tried sleeping with Alden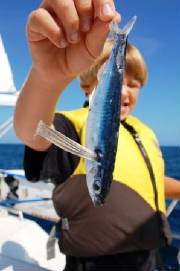 Grooming during passage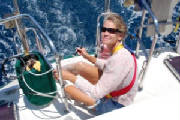 As the sun finally rose in the east, winds and seas quickly eased to the point where we approached Catagena with full sails on a beam reach while dodging fishermen in dug out canoes. It was surprising to see them out so far in such small craft. All powered by paddle or "garbage bag" sails. At 0830 we passed over the submerged wall guarding the northern, Boca Grande entrance of Cargagena harbor. A half hour later we anchored off of Club Nautico. Mike and I inflated the dinghy, lowered it over the side, installed the outboard, and motored into Club Nautico where dock master John informed us we could bring "Charlotte" into the dock right away. A half hour later we were med-moored on the outer dock with a stern plank rigged for access and the short 220v 60hz shore power cord rigged. This was the first time we've been to a marina since Rum Cay in the Bahamas. We spent the rest of the day giving "Charlotte" a good wash down and cleaning. As the local customs and immigration officials are unwilling to deal directly with yachtistas, we retained local agent Manfred to handle our paperwork. Later that afternoon, Mike and I checked out the local supermarket, used the ATM to get some pesos, and walked the Manga neighborhood in very humid, hot weather. Mike checked out the Club Nautico bar and was impressed that a bottle of local "Aguila" beer cost only $1.50.
Shortly after sunset and showers, we walked from Club Nautico to the old city for dinner. We were quickly blown away by the old city walls, houses, churches and forts. After wandering the streets of the Centro area we settled down to eat in the open air plaza of San Pedro Claver at the Mirador restaurant. What an outstanding dinner; not just eating, but fine dining with excellent service, a charming and comfortable setting, and a wonderful last meal with Uncle Mike. Returning to "Charlotte" we all crashed asleep for our first full night of sleep after three days offshore. The next morning, Uncle Mike caught a taxi to the airport. We were sad to see him leave but very glad to have spent the last ten days with him. We're very thankful to Nancy, Carley, Aidan, for letting him take this time away from home.
Sailing into the sunset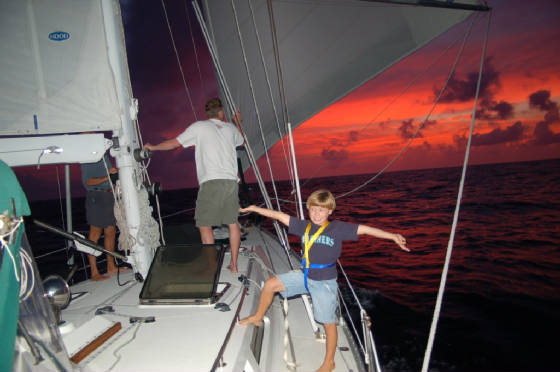 Grenada to Panama 2009