Virginia Beach Through the Bahamas 2008
Alden, Levi, and Mitchell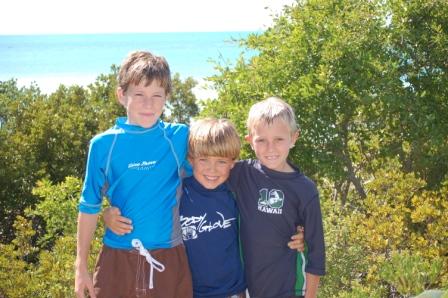 30 Dec 2008-Sailing across the Turks Passage to Big Sand Cay – It's a beautiful day here in Turks and Caicos. We're now sailing across the 20nm wide Turks Passage from Long Cay on the eastern side of Caicos Bank to Big Sand Cay, a small uninhabited island south of the Turks Bank. It's a sunny day with ten knot ENE winds and 4' seas. Kirsten is steering us on a close hauled course while Alden rests on the cockpit settee listening to Peter Paul and Mary; Puff the Magic Dragon and Kumbaya. After a week of beating east while departing the Bahamas, we thoroughly enjoyed staying anchored for eight days at Sapodilla Bay. It went by very fast.
Anchoring in this small bay on the southwest corner of Caicos Island, Providenciales, or "Provo" as they call it locally, we initially thought there would be little to do. Thanks to the amazing hospitality of two families who were vacationing in rented homes along the beach, and another cruising boat, we kept very busy and thoroughly enjoyed the Christmas week. On the first day, while playing at the beach, Alden met Luke, who was digging a huge hole. They were soon joined by Luke's brothers Mitchell and Levi and sister Mary. The Houltons, from Omaha, Nebraska, were enjoying a three week holiday vacation and had rented a very nice beachside home. Mark, Lisa and Lisa's parents Bob and Dorothy were absolutely wonderful about letting Alden play with the boys, feeding him, and providing access to their pool, house, and internet. Each day the boys would gather at the beach to play. We enjoyed one very memorable evening with surf and turf dinner at their home along with the crew of "Enata." On our second day ashore I met Lincoln Baker who was teaching his partner, Courtney to kiteboard. Being a kiteboarder wannabe, I listened on. The following day we rented a car to explore the island of Provo. I let Lincoln use our dinghy for the day as a kiteboard chase boat. We subsequently met his extended family who were renting a large beachside casita. They were down from the week from points north. Alden enjoyed playing with Ben, Lincoln's nephew. We had two wonderful dinners at their house with long talks about all sorts of topics. Lincoln's mom, Candace, had rented this large house and invited her family down for the Christmas week. Her daughter Lizzie was down from Burlington where she was on break from UVM med school (also where Kirsten went to med school), her other daughter Leslie was down from Portland with her husband Peter and their kids Aiden, Ben, and Eliza along with Peter's mom Judy. Lincoln and Courtney were in from Chicago. With light winds the following day, I rigged up a tow rope for our dinghy and Lincoln, Courtney and I went wakeboarding with Lincoln's kiteboard. While we missed our immediate families over Christmas is was certainly great to be adopted by these two families. We can't thank them enough.
There were only three other boats anchored in Sapodilla Bay. One was the 43' Prividedge catamaran "Enata". We soon met her very friendly Norwegian owner Lakki on the beach. Lakki and his partner Hildegunn have been cruising the Caribbean for the last two years. Fifteen months ago they were blessed with a gorgeous baby girl Meinee, who was the quintessential boat/beach baby. Also crewing on "Enata" were Norwegians Hilde and Reidar. In later talks about boats past and present, I learned that Lakki, had purchased and cruised on "Banana Split" a plywood catamaran built just up the road from where I grew up in Touisett, MA. The night we dined at the Houlton's house, Lakki played guitar while Hilde sang. They are both extremely talented and Lakki has recorded some albums. They are now producing a series of language education board games to support their cruising lifestyle. Two nights ago we spent a few hours aboard "Enata", drinking wine and hearing stories about cruising Panama, Columbia and the western Caribbean. We left with an armful of their cruising guides and Lonely Planet guidebooks. "Enata" is headed to Luperon, DR and then crossing the Atlantic. Lakki and Hildegunn will base themselves in the Canaries for a few years to attend to their burgeoning game board business. It's called New Amigos. Check out www.newamigos.com .
Yesterday morning I visited customs and we cleared out of the Turks and Caicos. We then said "Goodbye" to our new friends and motored 40nm across the Caicos Bank to Long Cay. The Caicos bank averages about six feet in depth and we chose a track to keep us in deep water, never seeing less than ten feet. We have seen no other boats besides local fishermen since we left Sapodilla Bay. We're now about ten miles out of Big Sand Cay where we'll anchor for the afternoon. We may depart tonight for Luperon or possibly Puerto Rico if the good wx window spurs us further. Decisions to be made.
Tubing behind the "Jammin'"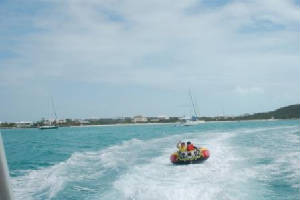 22 Dec 2008 Sopadila Bay, Turks and Caicos- It looks like we'll be spending Christmas in this small island nation. We left the Bahamas two days ago with a very nice close reach from Mayaguana to West Caicos; landing a six lb Mahi-Mahi enroute. It's the first sail we had in a very long time where the boat was not being drenched with spray and tossed. Making landfall after sunset on the 20th, we opted not to transit the coral studded channels into Providenciales and anchor off of West Caicos. After one more rolly night, we motored up to the Sandbore Channel and onto the Caicos Bank before anchoring in Sopadila Bay. It was so nice to drop anchor in a settled anchorage with sunny skies and light winds. Alden accompanied me in the dinghy to clear customs around the corner at the commercial piers of South Dock. There are three catamarans and one other monohull anchored here at Sopadila. We've also managed to meet a family with three boys of Alden's age who are renting a house on the beach; with pool, internet, and videos; SCORE. This morning, after a seriously needed boat wash, Max-prop greasing, and schooling, we headed into the beach. I brought along the Dahon folding bike and ventured out to the airport to check on rental cars. Not many other bikers on this island; actually no other bikers. I was treated as an alien by the local drivers but managed to avoid incident and injury. Tomorrow we'll drive around in an Avis car to see what's on this island. It looks like we'll be here until after Christmas before an acceptable weather window allows comfortable passage to the Dominican Republic. There could be far worse places to be stuck! We're thankful for the beach, clear water and protected anchorage. Our stockings are hung on the main bulkhead with care and Alden is convinced Santa will descend our mast steps to leave presents on Christmas. No chimney needed. Happy Holidays to all; especially everyone braving northern climates.
Sopadilla Bay, Turks and Caicos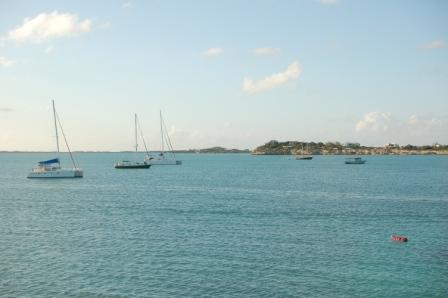 20 Dec 2008 Anchored on the south side of Mayaguana Island; Broken Bay- It's been a series of wet, windy, windward slogs since we left Rum Cay. Lots of spray coming aft, into the cockpit and a few drips through the companionway down below. The seas have been ten plus feet and we've stayed harnessed in on the chance one breaks into the cockpit (it hasn't happened yet). Regardless, it's not the kind of sailing/motorsailing one chooses to do for fun. We're paying the price to get east to the Domican Republic and beyond. After all, this is the "Thorny Path" and we're not willing to wait weeks for perfect weather windows.
After leaving Rum Cay, and sailing close hauled into 25 knot winds with darkness quickly approaching, we decided to crack off and seek shelter behind Crooked Island. We anchored at 2230 just north of Landrail Point Settlement in 15' of water 200yds off a sandy beach. We spent the following day anchored, working on the boat, schooling and then went to the beach that afternoon. Alden found two welks which he built a sand castle for. We snorkeled on a small reef but the seas and wind hampered visibility. On the 18th we sailed in 20 knot ENE winds/10 seas to Attwood Harbor on Aklins Island. After thirty miles of beating, we cracked off and entered the narrow reef into this small, sandy, coral strewn bay. One other small sailboat was sheltered up in this cove. Other than this boat, there have been almost no other boats. We have seen lots of cruise ships passing through the area. Yesterday we left Attwood in rough/windy conditions and sailed north to clear shoals before tack over to a southeasterly heading. Passing squalls brought rain and rapidly changing winds. As afternoon approached, we rounded the very attractive West Plana Cay and altered course for Mayaguana Cay where we anchored in a large cove on its southside at 1830; wet exhausted, covered with salt, but 58nm closer to our goal. Today, conditions look far more settled for a 50nm beat to the Turks and Caicos. We'll say "goodbye" to the Bahamas with a new respect and admiration for the various cruising grounds of this island nation.
16 Dec 2008-Sumner Point Marina -After rolling all night at our Conception Island anchorage, we decided to find more shelter. After a morning beach walk on Conception, we had a quick sail to Rum Cay where we anchored for the night off the town of Port Nelson. Again it was rolly so we decided to move into Sumner Point Marina. While moving into the marina, we got a little close to a coral head when the dock master told us to go right and we did(he meant his right, not ours). Luckily Charlotte is steel and shrugged of this coral contact! Sumner Point is a great place to wait out weather. We rented a beach buggy yesterday and rode up to the north side of the island. The snorkeling has been a little challenging as the 25 to 30 knots winds have the water very stirred up. This morning dawns with a weather window calling for NE winds at 20 knots which should provide for a quick overnight sail to Mayaguana. We'll leave the marina shortly, at high tide and with favorable light to pilot out through the coral heads and then leave later this afternoon when winds decrease and veer to NE for an overnight sail to Mayaguana.
Rented Beach Buggy on Rum Cay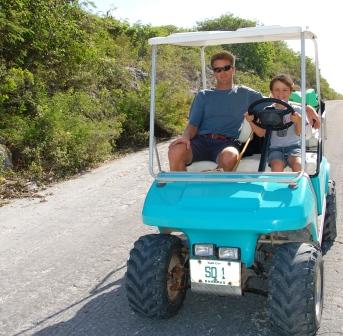 Sumner Point Marina- Rum Cay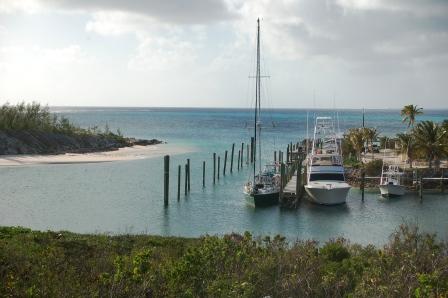 12 Dec 2008 Anchored NW Corner of Conception Island- At 0930 this morning we managed to escape the comfortable cruising port of Georgetown. We'd been there three days and really enjoyed ourselves; anchored in the lee of Stocking Island with some thirty other cruisers. Ashore at Stocking Island were the "Chat N Chill" beach bar, three beach volley ball courts, and plenty of tables and beach chairs for lounging. One mile across the harbor is the town of Georgtown proper with gas stations, liquor stores, a large market, and restaurants. Alden met each afternoon at 1300 to play with Victor and Xavier of Charleau, James and Kaleb of Solange IV, Isabella of Nexus, and Corazon of XT Sea. This freed up us parents to play volleyball, dive, socialize, and even have a cool Karib at the beach bar. What more could one want?
I once again followed Charles' dive site reconnaissance and headed with he and Kevin to the reported blue hole in anchorage hole No. 2. As we pulled up next to a limestone wall alongside two other dinghies, I thought, "This doesn't look like a blue hole." A 20' descent brought us to the mouth of a cave opening with current flowing in, poor visibility, and a forty-five degree downward sloping tunnel just small enough to drive a Toyota Prius into. And, huge angelfish swimming about. It took me about two seconds to realize that I wasn't prepared or equipped for cave diving and I signaled to Kevin that It was a no go for me. Kevin was obviously relieved and of the same frame of mind. Charles surfaced a few minutes later and also concluded that it was unsafe to proceed. The two other cruiser/divers also surfaced with similar conclusions. O.K., so this wasn't the blue hole. It must be around here somewhere. Luckily one of the other cruisers quickly found the true blue hole and signaled us. We then moved over and descended slowly into this vertical shaft to ninety feet. Yes, there were tunnels leading off that probably headed out to the ocean. There was some current flowing down into the hole. This one was more of a Chevy Blazer sized opening in the seabed and more importantly, vertical. Light and the ability to swim up and out; a neat experience, safe and comfortable. Last night, we went ashore for Georgetown's Christmas tree lighting ceremony. For me, seeing the Royal Bahamian Police Force marching band was a highlight. It reminded me of the Kings Point marching band with leopard skins, pith helmets, and much pomp. The kids went wild, chasing each other around the playground along with fifty or so local Exuma kids.
With a brief weather window open for our escape, we hove up the anchor at 0900 and sailed in ten knot westerly winds out the south entrance to Georgetown harbor this morning. At 1242, a passing cold front quickly veered the wind to north at 18 knots as we gybed, reefed main and genoa and settled onto a beam reach doing eight knots while abeam Long Island's Cape Santa Maria. Two hours later, with Conception Island just two miles away, it was time to roll in our two fishing lures being trolled astern. Amazingly both lines were taught, zigging and zagging: "fish on." We managed to pull in a ten lb. bull Mahi-Mahi and sedate him with cheap gin before focusing our attention on his partner hooked on the other line. This one was a dousey: probably 20lbs and a fighter. About half way into the boat, it escaped; more than likely tearing it's jaw apart to free the huge barbed hooks. With just enough light to see the coral head, we piloted into the NW corner of Conception Island and dropped our anchor in twelve feet of water over a sandy bottom. After settling in, I decided to dive on the anchor to make sure it was well set. Jumping off the stern with mask and snorkel, I was immediately greeted by a 12 lb Creval Jack. This guy must know he's safe from fishermen at this island, a national park/marine sanctuary. He escorted me to the anchor and back. The water here is absolutely clear. From the bow of Charlotte I spied a huge barracuda hanging out at our stern. Oops, I forgot to remove my wedding ring and I know they're attracted to jewelry. Not wanting to see if he'd move aside and let me climb up the swim ladder, I aschended the anchor chain and vaulted over the bow pulpit then informed Alden and Kirsten of our welcoming committee. Right now, we're the only boat at the island. We're rolling some as seas wrap around Southampton reef and West Cay into the anchorage. I've rigged a stern quarter/anchor chain bridle to pull our stern around and line us up with the swell vs. wind. Still, Kirsten is feeling the motion and a bit perplexed at why we're anchored at this remote island. If forecasts become reality, tomorrow will bring NE winds, more protection, sunlight, and a playground of absolutely pristine beach and what is reported to be the best, unspoiled coral reef in the Bahamas. I hope so as we may be stuck here for a few days until the next cold front and abatement of the interminable twenty knot easterly winds. The Caribbean beacons but not so fast that we should pass up such a small sliver of paradise. We'll report more on this intriguing island tomorrow.
Ten lb. Mahi-Mahi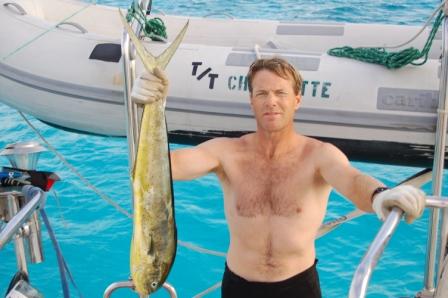 9 Dec 2008-Anchored off of Stocking Island, Georgetown, Exumas: We've made it to the milepost of Georgetown (final destination for many cruisers). From Wardwick Wells we hoped along in the shelter of the Exuma Islands, on Exuma Bank. Stopping at Bell Island we visited with Tana and Kenny Keyworth who are caretaker/managers of this private Island. We met Tana and Kenny two summers ago while cruising in Maine. They gave us a tour of this private island which provided a glimpse of what private Islands are all about in the Bahamas. Kenny showed us the watermakers, generators, three houses, crew quarters and docks. Kenny's description of the island as a ship that doesn't go anywhere is pretty accurate. From Bell Island, we sailed six miles down to Pipe Cay and anchored next to our friends on "Solange". The following day we did a tour/snorkel/beach day, circumnavigating Pipe Cay with the dinghies. That evening we enjoyed dinner with the "Solange" crew aboard "Charlotte". Kevin of "Solange" showed Alden and I how to clean conch. From Pipe Cay, we hoped another six miles south and anchored off Pig Beach on Big Majors Spot Cay. Yes, live pig live on this beach, and come looking for food whenever a dinghy comes close. We chose not to swim at this beach. The following morning we snorkeled at Thunderball Cave; a very cool limestone island with a cavern in the middle. At low tide, we were just able to swim into the cave without ducking. Once inside, it opened up to a large room illuminated by shafts of sunlight through a few small overhead openings. Hundreds of fish swam about at the cave entrances. One of these days, we must get an underwater camera to capture these special places; perhaps for Christmas. At noon, we dinghied to Staniel Cay Yacht Club to retrieve a package sent in via Watermaker's Airlines and forwarded by aunt Kami. Inside was a new watermaker membrane, wetsuit for Alden, some mail, medicine for Kirsten, and surprise licorice from Pappy Wolff. It was great to receive all of this but it was an expensive lesson in Bahamas customs/duty. 45% duty on all items! While at Staniel Cay, we watched the locals clean fish and feed the discards to a dozen hungry nurse sharks and stingrays. With our package in hand, we made it back to "Charlotte", heaved up the anchor and motored six miles south to Black Point for the night, anchoring next to "Solange".
Yesterday, we made a quick 54nm passage from Black Point to Georgetown. With the anchor up at 0700, we motored out of Dotham Cut to Exuma Sound and close reached in 15-20 knots of easterly wind, arriving at Conch Cay Cut at 1400. Georgetown is THE cruiser's destination for the Southern Bahamas. At peak season, in the spring, there can be five hundred boats here. Right now, there are perhaps sixty other cruising boats anchored. Many cruisers come here and spend the entire winter. There are all kinds of organized activities on the beach, including yoga, volleyball, religious services, AA meetings, etc. Stores ashore are reported to have all the supplies a cruiser might want, including groceries, marine supplies, propane, books, etc. Our plan is to purchase some badly needed fruits and vegetables, spend a few days checking out the social scene, and then jump on the next weather window and head towards the "out islands" and then the Dominican Republic. I'm sure we'll have more to report from Georgetown in the next few days.
DANGER CAY REEF DIVE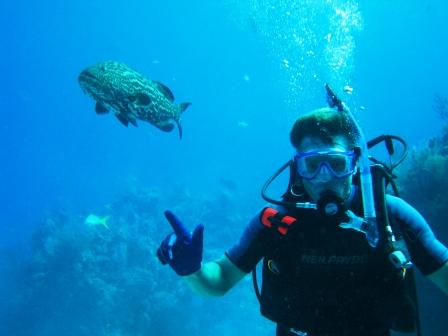 2 December 2008 Moored Wardwick Wells- We're still here but plan to head south to Little Bell Cay today. It's cloudy and there are passing showers as we find ourselves sandwiched between two cold fronts. Yesterday was another fun day here at the Exuma Land Sea Park spent in company with the families of "Solange" and "Charleau." The dads snuck off for a great dive at Danger Cay reef. Diving down to some large coral heads at 50', we were surrounded by large grouper and sharks. We knew we were in the right area when a large dive catamaran showed up. After homeschooling in the morning, the kids gathered again on the sandshoals for more sandfights. As Alden and Victor (aged seven) dinghied into the beach we couldn't help noting this milestone of independence for him; he's growing up. Yesterday afternoon we hiked with the Solange family to Boo Boo Hill. I think the other boats will scatter in different directions today. We hope to rendezvous with them again in another harbor.
SHARKS AND GROUPER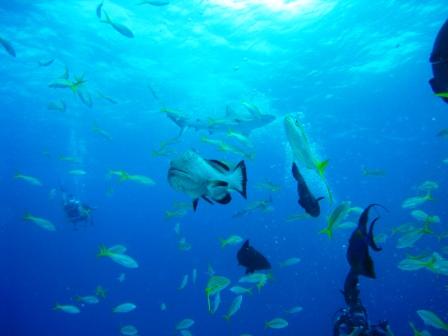 WARDWICK WELLS NORTH ANCHORAGE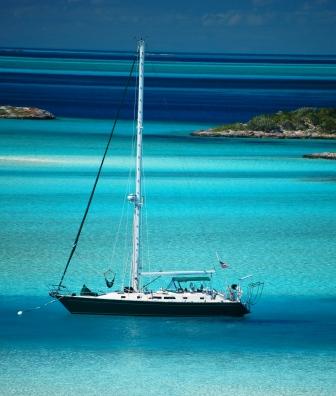 1 December 2008 Moored Wardwick Wells - We're still moored here at the Exuma Land and Sea Park after concluding it's as good a place as any to be for today's strong cold front passage. And best of all, we've finally met up with other cruising kids. On Saturday "Solange" a Peterson 44 out of Vancouver, BC, arrived with two boys aged 8 and 10. Yesterday a Beneteau 37 out of Montreal, "Charleau"(French for Charlotte), arrived with two boys aged 7 and 10. All five boys took over a sandy shoal adjacent to the boats for a three hour-long sand fight while the adults kept watch from their boats. We were a little concerned about Alden being the youngest of the pack but he held his own and had a great time with the other boys. It was awesome watching them play for hours in such a beautiful, natural playground. I was able to do my first real "open water dive" with the other two fathers. Charlie of "Charleau" is an experienced diver while Kevin of "Solange" had just completed his certification training and a novice like me. We dinghied to a 20' reef right here in the anchorage and spent about 40 minutes checking out large grouper and huge lobsters who've been allowed to reach such large sizes thanks to the Park's fishing prohibitions. Outside the park it's rare to see so many large lobsters. But, outside the park we'll be able to spear the fish and lobsters and then eat them! Kirsten was able to do yoga on the beach and swim laps in the perfectly clear water and sandy shallows just a stone's throw from "Charlotte." The morning was spent home schooling Alden and successfully repairing an igniter and thermocouple on the Force Ten galley stove. It was a busy but fun day. Later today a strong cold front is supposed to pass through with winds veering from SW to NW. I've dug out the windsurfing boom and may even rig up a small sail to shred the anchorage; the first time windsurfing in over two years. We may also go diving again today. As I filled scuba bottles last night while making water and doing laundry in the machine, I realized why we've got all this "machinery" on our boat and just how lucky we are to be in such a beautiful place using it. It looks like divers without compressors will trade beer for air…. Not a bad deal
ALDEN AND VICTOR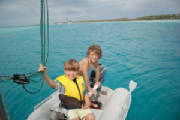 BLOWHOLES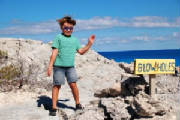 29 Nov 2008 –Anchored at Warwick Wells; Exuma Land and Sea Park. Backtracking to Highborne Cay for a few moments…. The winds finally settled down enough for us to dinghy north 1.5 nm to Alans Cays where we visited the rare Rock Iguanas. After pulling the dinghy into "Iguana Beach", these prehistoric looking critters slowly emerged to visit. Cruisers of yore have fed them and they now expect food whenever a dinghy arrives; we disappointed them. These Rock Iguanas are only found on three small cays in the Bahamas. They grow to about three feet long. Alden also found a coconut on the beach which we cracked open on a rock and sampled the milk and meat. It was pretty good. We also snorkeled in the harbor at Alans with the strong current sweeping us along the reef. On the 26th, we sailed in light northerly winds 14nm south along the Exuma Bank to Normans Cay. This island became infamous in the early 80's as the base for Columbian drug smuggler Carlos Leder. There's a lot of abandoned buildings and a crashed cargo plane in the harbor(which we snorkeled around). The airstrip is still used by some small planes. A very cool beach bar and cottages are adjacent the runway. We visited McDuff's one night for what is reported to be the best cheeseburger in the Bahamas. Alden devoured while sitting on a barstool in front of the large screen TV watching Discovery Channel's "World's Toughest Jobs," while Kirsten and I learned local and Bahamian history from the owner/bartender, Stefan. Snorkeling around the ditched cargo plane was very fun. The fish have definitely taken over and enjoy the protection of this man-made reef. We also visited a small island adjacent to the boat and were blown away with the number of juvenile conch; too small for harvesting.
Yesterday we motorsailed 15nm south on the east side of the island chain in Exuma Sound, to Wardwick Wells. This is the headquarters of the Exuma Land and Sea Park, a nature preserve established in 1958 and covering 176 square miles. The place is very impressive, well run, and beautiful. The anchorage we're moored in is a sliver of deep water running between white sandy shallows. We have a resident shark hanging out at the boat. He's about four feet long and holds position in the current near our rudder. We'll need to get a guide and identify him. The park headquarters is a very cool building with DVD rentals, guides, trail maps and all kinds of resources for the visitor. We managed to run out in the dinghy to Emerald Rocks and then Malabar Cays and snorkel before the sun got too low. After dinner we watched "Captain Ron" a very funny movie with Kurt Russel as a hilarious yacht delivery skipper. We'll probably spend at least one more day here before proceeding south. There's good trails to hike with interpretive signs about local flora and fauna. A cold front is supposed to pass on Sunday so we'll look for a sheltered anchorage to hole up in for that event.
Iguanas on Alans Cay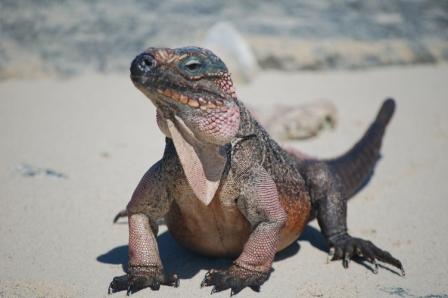 SNORKELING PLANE WRECK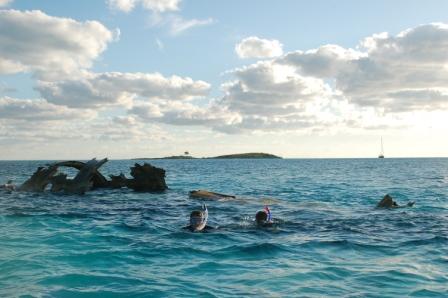 24 Nov 2008 Anchored on the west side of Highborne Cay; close in- Yesterday we left the opulent Marina at Atlantis, more suited to megayachts than humble cruisers. We motored out the west side of Nassau Harbor(our mast is too high to clear the Paradise Island bridges), then motorsailed ENE to Rose Island where we set sail and close reached in 20 knot ENE winds, across the Yellow Banks finally reaching the Exumas at 1600. With strong NE winds predicted for today we anchored close in to the western shore of Highborne Cay. We'll spend today doing some schooling, boat maintenance, and then head into a beach for some swimming, walking, and snorkeling this afternoon. Tomorrow the wind is supposed to ease up and should provide better conditions to snorkel the reefs in this area. A large dive/livaboard catamaran is anchored offshore of us… I'm concluding the diving and snorkeling are good here.
Docked at Atlantis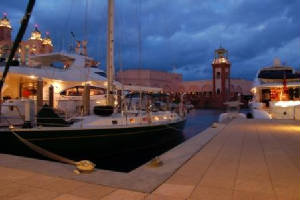 22 Nov 2008- We're in Nassau, docked at The Marina at Atlantis. What a place! The waterslides and waterpark have been alot of fun. Alden is having a blast. The aquariums and dophin shows are fantastic. We had planned to depart this morning but twenty five knot northerly winds are blowing and we've decided to stay another day. It' supposed to blow hard again tomorrow but we're hopping it'll ease off just a bit for our run down the Yellow Bank to the Exumas.
Mayan waterslide-Alden coming down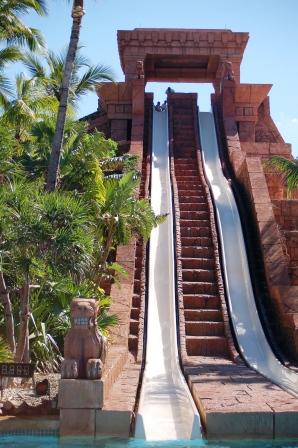 Aquarium Tunnel at Atlantis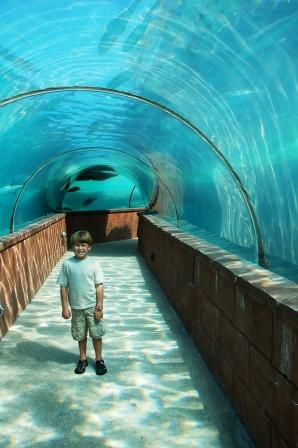 20 Nov 2008 Anchored south of Rose Island, five miles from Nassau/Paradise Island. It's now been one week since we first arrived in the Bahamas and we've covered a lot of territory. Two days ago we shifted from Royal Island to Russell Island. Royal Island used to be a very popular cruiser's anchorage. It is now being developed for a huge resort with Jack Nicklaus designed golf course. Site work is being done now and the bulldozed trees, rock and dirt are pretty ugly. And, they're burning the scrub which doesn't help air quality. The consistent, strong northerly winds blowing for the last five days have found us seeking high bluff lees on the south side of islands to anchor. Our Russell Island anchorage meant a one mile dinghy ride into the very quaint town of Spanish Wells. Yesterday we sailed through Current Cut with the a fair four knot current and down the bight of Eleuthera, staying in the lee of reefs and islands to position ourselves for an easy sail to Nassau today. Winds yesterday were once again from the north at twenty to twenty-five knots making for a quick 40nm day. And, it's been cool for the Bahamas. With the water temperature dropping to 73 degrees, we're now using wetsuits for our afternoon snorkel sessions. Once anchored here we took the dinghy over to a small cay and snorkeled just off the limestone shore where the marine life seems to flourish. Today, we're headed to the marina at Atlantis for two days. This is a big treat for Alden. Family and friends have been here and said it's a must see. So we've decided to take two days from our "off the grid" cruising lifestyle to enjoy and explore this world renowned resort. Dan leaves from Nassau on Friday so this will get him close to the airport
Alden snorkeling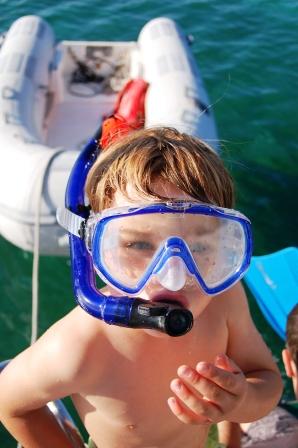 17 Nov 2008 1000-Crossing the Northeast Providence Channel from the Sea of Abaco to Royal Island/Spanish Wells. We spent yesterday sailing down the Sea of Abaco from Green Turtle Cay to Lynard Cay. It was a fast sail with twenty five knot northerly winds. We gybed back and forth, winding our way through the shallow banks, passing Guana Cay, Marsh Harbor, Man of War Cay, and Pelican Cays before anchoring for the night in a small nook on Lynnard Cay. Well, we actually parked for a few hours before anchoring…. I got too close to shoal water going into the small anchorage and the outgoing tide held us there until about 1900. I learned that one can't conclude that light/sandy color means shallow water. We had thought the darker color was deeper but it was actually grass. The sandy, grass free areas here were deeper. We still managed to dinghy ashore for a snorkel and walk on the beach before a late dinner of boatmade pizza. Today we're heading south again with a 12 knot north wind and rolly sea. It's partly cloudy and seventy-five degrees. We're covering about 56nm today and plan to spend tomorrow anchored at Royal Island. We'll probably dinghy up to the town of Spanish Wells where our friend and dock provider for the last few months, Mason Gamage, spent so many winters. I've promised Kirsten and Alden that once we hit the Exumas(next week), we'll slow down for a few days and not move so much. Hopefully we kind find some other cruisers with kids in the Exumas
16 Nov 2008 0600-Anchored in White Sound at Green Turtle Cay. A cold front has just blown through and the temperature is dropping. The wind has shifted from the southwest and now blowing 25 knots from the NW. We shifted from our exposed anchorage at Coco Bay for this reason. Yesterday we dinghied into the town of New Plymouth. A very quaint Bahamian town settle by revolutionary war era loyalists. We were surprised to find four small grocery stores in such a tiny town. We also bought a bottle of Bacardi Rum for $9.40 and gin for $7.00. We'll use the gin to sedate any fish we catch while trolling. The rum?? Beer is $12 per six pack. Alden, Dan, and I snorkeled in the morning and then again just before sunset. We've seen moray eels, lobster, and a lot of other interesting fish. We'll probably head south from here today towards Hope Town or Marsh Harbor. This really depends on how rough the Sea of Abaco is in these NW winds. I'm hoping that the sheltered waters will stay relatively calm and allow for fast yet smooth sailing
New Plymouth on Green Turtle Cay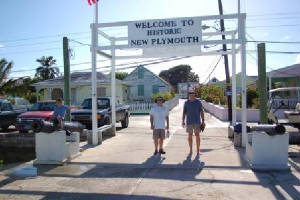 14 NOV 2008 We arrived yesterday at about noon, with very minimal rolling seas in Whale Cay Channel. Once inside the reefs and now in The Sea of Abaco the boat settled down with no roll and pitch as we'd live with for the last four days. The water color turned clear and crystal blue the bottom clearly visible. We sailed north six miles, up to Green Turtle Cay and ended up anchoring just outside Coco Bay in 8 feet of water at low tide. This cove is at the north side of the island and we're just below a bluff, protected from the 20 knot ESE winds. After anchoring, we spent about an hour hanging the dinghy at different angles, trying to get water out of the tubes….. Lesson learned; never leave the inflation valves open at sea. Water washing over the deck made its way into the valves and tubes; no easy task to remove. Next we dove on the anchor and swam around the boat. Ahhhh what a great first swim. Seventy eight degree water and perfectly clear. I then jumped in the dinghy and motored to the town of New Plymouth to clear customs. Unfortunately the customs agent was away on the mainland for the day. There was no sign on her office and it took some detective work to figure this out. It seems like they're a little more laid back here than at busier islands. We'll clear tomorrow. Our plan is to clean the boat today, then head out to dive on the reef. We'll move to the protection of White Bay tomorrow morning at high water. A strong cold front is predicted for Saturday so we'll want to be anchored in a protected location.
Overall, it's so great to be here. It's been a long year for all of us. A lot of work, pain, preparation, recovery, money and effort has been spent getting this boat to warm cruising grounds. Time will tell if it's all been worth the effort. As we were sailing in the flat waters of the Sea of Abaco with Alden swinging in the hammock, and the clear waters passing below, I began to think "we'd arrived." We covered 662 nm from Virginia Beach in four and a quarter days with minimal gear casualties, no injuries, and a lot of salt spray on the boat. Our work list includes installing a new watermaker membrane(one of 2), replacing our stern wash hose(washed overboard during trip), and tracking down the chatter in our autopilot(it worked fine).
12 Nov 2008 0700 GPS 29.5N 075.9W. Yesterday was a nice day. The wind finally came around to east and built slowly to 20 knots and we started sailing, making great speed towards the Bahamas. Alden kept busy listening to books on tape, playing card games, and doing flash cards. At 1430 we caught a small Mahi Mahi; about 5 lbs and filleted him for dinner; he was excellent. As the evening progressed, the seas increased and wind built to 25 knots with gusts to 30. We're now sailing with our staysail and about 50% of the mainsail. The boat is handling the conditions well. Our only gear issue is the autopilot; it's steering fine, but there's a concerning chatter coming from the hydraulic pump when we steer hard in one direction. There's no hydraulic leakage and everything else appears normal. I installed this heavy duty Raytheon hydraulic autopilot last year for just these kind of conditions. I'm not happy that it's making these noises. Needless to say, with the wind and eight foot seas on our beam it's pretty dynamic. Alden and Kirsten have been able to stay ahead of seasickness with Bonine. While Kirsten is not really enjoying this rough sailing, she's managed to do a great job, even standing watch. I found a flying fish on the deck this morning. We'll use him for morning biology class with Alden. Right now we've got 190nm to go to Loggerhead Channel/Whale Cay Channel. If we can hold seven knots, we should arrive mid day tomorrow. If the conditions don't close out Whale Cay Channel, we'll try to go through it and up to Green Turtle Cay. If Whale Cay is closed out due to seas, we'll go through the more protected Loggerhead and make our way south to Guana Cay and eventually clear customs at Marsh Harbor. This day of less than comfortable sailing will make arrival in the Bahamas all that nicer. PMM
11 Nov 2009 0100 GPS position 38 04'N 075 47'W, motoring south at 5.5 knots in very light wind. Yesterday we crossed the gulfstream. After receiving a morning forecast calling for more easterly winds, we decided to cross the gulfstream and get east. So, we changed course almost ninety degrees to cross this fast flowing(2-4 kts) northeast current at right angles and get across. We watched the water temperature climb from 64 to 77 degrees in less than a few hours. We've had groups of dolphins join us for a few minutes before getting bored and returning to their fishing. Some fish chase a lure trolling behind us. We could see them checking it out but they didn't bite; we had frozen pizza for dinner. Perhaps today we'll have more luck fishing. Everyone is adjusting to this rolly-polly motion. We really could use some fair, moderate winds. We're motoring far too much but trying to reach the Abacos by midday on Thursday when southerly winds are forecast to strengthen. Otherwise, life is good. Clear skies, warming temperatures. Last night we stood watch in coats, hats and mittens. Tonight, it's bare feet and just a light fleece jacket. All systems are working fine with the exception or our watermaker. Today while running it, I could not get the salinity below 900ppm vs. the normal 600ppm. I think we've got a membrane that needs replacement of cleaning. Today I'll try isolating one of the two membranes and see if only one is going bad. Well I'd better see how Alden's doing up above…. PMM
Motoring off NC/VA Border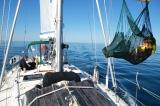 Sailing off of North Carolina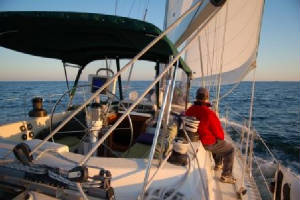 9 Nov 2008 It's now 2200 and we're abeam of Cape Hatteras, motoring around Diamond Shoals The moon is out and providing brilliant nighttime light. We departed Virginia Beach this morning at 0645 and enjoyed two hours of sailing before the wind died out. It was a beautiful day along the Outer Banks. Dolphins joined us for a few minutes; big ones, right on our bow. Alden and Danny were very excited to see them. Alden spent some time swinging around in the hammock hung on the bow. It's amazing how much motion is achieved while suspended from the spinnaker halyard and rolling at sea. Kirsten and Alden have been doing great as far as motion sickness is concerned. Both are taking Bonine and coping well. Our plan after rounding Diamond Shoals is to stay north of the Gulfstream until off of Cape Lookout and then cross it at right angles and set a course for the Abacos. Tomorrow we'll deploy our trolling gear and see if we can't get some fish. PMM
9 Nov 2008 We're still in VB; but not for long. We decided to spend one more night and start in daylight while letting the cold front pass. Now we'll spend our first day underway with fair winds and clear skies. We took advantage of the night ashore, taking Alden to see "Madagascar II." We also had one last spaghetti dinner at Keith and Irene's. Dan and I did a few more boat projects alongside the dock including pulling out, cleaning, and test assembling our Fortress FX-37 and FX-85 anchors. Well, time to fire up the instruments, coil up the shorepower cord and get underway. Hurricane Paloma is forecast to quickly dissipate and we'll continue to monitor it's track. Peace & Aloha! PMM
7 Nov 2008 The sun has finally come out! It's been about six days since we last were graced with it's shine. Kirsten's carpal tunnel surgery went well yesterday. Right now our plan is to depart tomorrow afternoon and hug the beach while heading south in prefrontal southwesterly winds. A cold front should pass tomorrow evening and greet us with westerly winds by the time we emerge from the lee of Cape Hatteras. At that time, if hurricane Paloma is still tracking though the lower Bahamas, we'll continue across the Gulf Stream on a rhumbline for the Abacos. If we're in doubt about the hurricane, we'll stay inside of the stream and work our way south along the coast. The freezer is packed full and holding temperature nicely with the new Frigoboat system. We'll do one more update of this site tomorrow morning before heading out. PMM
Gamage's dock, Lake Wesely, Virginia Beach
6 Nov 2008 It's blowing a solid thirty outside the inlet with big waves. We won't depart today. Kirsten has decided to have a day surgery on her left hand to remedy Carpal Tunnel Syndrome. She met with the surgeon yesterday and he was able to fit her in today. We're also watching tropical strom Paloma's development closely. It's predicted to strengthen and head over Cuba and then the central Bahamas. This latest weather development may mean we stay coastal before heading offshore for the Bahamas.
4 Nov 2008 Position: Rudee Inlet, docked at Gamage's. We're waiting for a low pressure system to move through before heading to sea. Our current plan is to depart on Thursday and head for "The Bight" at Cape Lookout, NC and wait for a cod front to pass on Saturday before again getting underway for the Bahamas.