Maine 2008
By Peter 9/3/2008

We're still enjoying Mt. Desert Island and Acadia National Park. We left Northeast Harbor on the 29th and motored seven miles up Somes Sound to Somes Harbor. That afternoon, we bused into Bar Harbor for a big provisioning at the large Hannaford's Grocery and enjoyed pizza for lunch. Labor Day weekend brought our good friends from Vermont. Charlie MacClean, Suzie Shane and their sons Graham and Eric drove eight hours from the Green Mountain State to join us for the weekend. After loading bags and an explanation of how to use the Lavac heads, we hove anchor and sailed in light southerly winds down Somes Sound to Valley Cove where we anchored for the night. The local fleet of very fine-lined International One designs entertained us by racing through the Sound along side of us. Once anchored in this dramatic dove, in the lee of Acadia Mountain, we passed out wetsuits to all the men/boys and hit the water. Spinnaker halyard swinging and spinnaker pole dunking chair were employed to plunge into the cold water. Charlie brought along his professional level camera gear obtaining great images of the activities and participants. On Sunday with strong northerly winds blowing down Somes Sound, we headed out for a sailing tour of Southwest and Northeast Harbor then tried beating back against wind and current into Somes Sound. With the staysail stay secured aft, Charlie steering, and Graham and Eric grinding the genoa, we managed to sail all the way back to Valley Cove before motoring back into Somes Harbor to anchor for the night. Once anchored, the boys needed more thrills. Eric climbed to the masthead, descended to the first spreader and then jumped into the water. I guess I'll need to try that once we get to warm, clear waters. Both Alden and Graham ascended the mast but chose not to jump. Kirsten and Suzie walked to Somes Pond for a fresh water swim and good conversation. Charlie and I kayaked around the harbor while the boys played Lego. We said our goodbyes on Monday morning. It was an exceptionally fun but short weekend. I'm thankful that we have a boat of this size allowing friends and family to visit.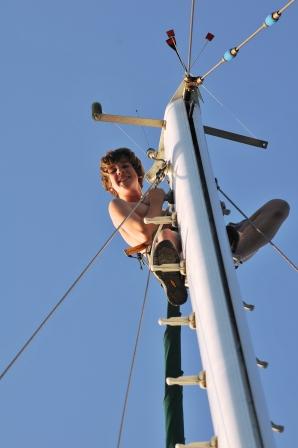 Eric at masthead
By Kirsten 8/29/08


From Rockland, we drove down to the Boston area where we enjoyed a wonderful gathering with Peter's family, with all of the steamers and lobster that one could eat! Danny was kind enough to watch the boat for us while we were away. We drove back up to Maine, where we met up with our good friends from Seattle, the Bogets, who stayed with us aboard Charlotte for the week. To give us more room for visitors, Danny said "goodbye" for a month or two, but we will probably see him in November when we make the trip to the Caribbean. It was so wonderful to have Jennie, Eric, Jolie and Maxine aboard and we had missed them dearly over this last year. Alden was beside himself to have the the girls visit as they have been like his sisters since his birth. We island hopped for the week, with some great hikes ashore, kayaking, as well as, you guessed it, daily dips in the water. Remember, these guys are from the Northwest, so the cool temperatures weren't intimidating!
After saying goodbye to the Bogets in Rockland, we again headed north to meet up with friends of ours from our Chapel Hill days. They spend their summers in Maine and enjoy the use of a sailboat while they are here. We met up with them in Swan Island we enjoyed a yummy breakfast of french toast, Vermont maple syrup, and of course, fresh handpicked blueberries aboard Charlotte. Despite Alden's perceived "allergy" to anything that is in the fruit or vegetable category, he has taken a liking to picking blueberries. Or, as he describes it, he "smacks the mosquitoes off of daddy" as Peter picks the berries. The Maine blueberries are quite small so that quite a bit of patience is required by both the mosquito swatter and the picker! It makes those berries on your morning cereal or the fresh blueberry pie that I made a few weeks ago taste that much better.
After saying goodbye to our friends, we further north, or "downeast" as they say in Maine. As we had a wonderful weather window, we decided to sail to Roque Island, which is not far from the Canadian border. We had beautiful weather and winds for our sail, arriving in the late afternoon and anchoring off of the "mile long sandy beach". We stayed for three days and then headed south, stopping at Mistake Island along the way. We felt more and more blessed with our fortune of seeing this part of the coast as cruiser after cruiser that we met told of us how they had spent years trying to see this area only to be foiled by the thick fog which is prevelant in this area. As one gets this far "downeast", it becomes somewhat desolate and miminally populated, and despite the beauty and grandeur, there is an eerie feel to it all.
We made landfall back in Winter Harbor, on the Schoodic Peninsula, just east of Acadia National Park. We really enjoyed the town and the surroundings and made ourselves regulars at the "5 & 10". "Sure" we said to Alden as he discovered Mexican Jumping Beans and wanted to buy a small plastic box with three of them inside. When we went to bed that night, all Peter and I could hear was "pop, pop, pop". Even after moving them up into the berth in the bow, you could still faintly hear them! I just laughed and asked Peter "what were we thinking"? To our credit, they have not found their way overboard and I think that we are just getting used to the noise!
We are now back in at Mount Desert, Acadai National Park, at Northeast Harbor. Yesterday we spent my birthday bicycling the carriage trails. We had beautiful weather with gorgeous views of Cadillac Mountain, the lakes, as well as the southern coast after ascending Day Mountain on the bikes. We treated ourselves to lunch at Jordan Pond and enjoyed their famous yummy popovers. In lieu of a cake, I treated myself to a beautiful blueberry pie from the bakery in town. It was a very nice day.
We will head back to Somes Harbor tomorrow, where we will meet up with friends from Vermont for the weekend. As of the last few days, there is a feeling of fall in the air. It is bittersweet as I realize that we will soon be saying goodbye to Maine, and I fear that it will be sometime before we see this part of the country again. Despite my many travels in this world, I do find this part of our country to be absolutely spectacular.
With summer ticking along, we finally readied Charlotte for the trip to Maine, departing Rhode Island on July 9th. That afternoon we had a great sail from Pt. Judith to Marion, MA, running down Buzzards Bay in twenty knot winds. We rafted up with HR46 owner Tom Green and his family aboard Trinity. Peter had helped sail Trinity up from Norfolk to Marion back in May. On the 9th we transited the Cape Cod Canal and sailed in gentle southerly winds to Provincetown harbor where we spent four fun days exploring "Ptown". We were surprised at how nice the swimming was on the sandy beaches of this harbor.
On the 12th of July we left "Ptown" for the 120nm overnight passage to Casco Bay Maine. Again, moderate southerly winds found us poling out the genoa to weather and preventing the mainsail to leeward while running downwind. We saw lots of whales spouting and tail slapping while crossing Stellwaggen Bank. As midnight passed and winds continued to build we rolled in the mainsail to slow "Charlotte" for a daylight arrival. After checking out Sebasco Harbor, we decided to move to the more protected "The Basin." After two days kayaking and beachcombing in this beautiful cove, we motored to Sebasco Harbor Resort where we enjoyed ice cream, the salt water pool, and candlepin bowling.
On July 16th, we sailed in light winds to Boothbay Harbor where we moored off Carousel Marina and awaited our Seattle friends David Brunelle and his daughter Kaylan. Once aboard, we sailed and motored in light winds out of Boothbay, through the "Thread of Life" and anchored by Witch Island in John's Bay where we hiked, kayaked, swam(67 degree water), and dingied through the S. Bristol gut. Returning David and Kaylan to Boothbay the next day, we anchored and then went candlepin bowling on the very uneven lanes. On the 19th, we sailed and motored to Long Cove adjacent Tenant's harbor and anchored for the night. The next morning, we sailed/motored to the very beautiful and small Duck Cove on Isle Au Haut which is part of Acadia National Park. We set both a bow and a stern anchor as the harbor is so narrow. This is the first time we used the "Anchorlina" web reel for the stern anchor and it worked great. The next day we hiked Duck mountain, picked blueberries and then dinghied to the main town for ice cream. Two other boats joined us that night in the harbor.
The following morning, July 22nd, we motored in light winds to Somes Harbor on Mt. Desert Island to enjoy Acadia National Park and spent one whole week in this delightful harbor. We've done lot's of hiking and are surprised at how much Alden is enjoying scrambling on the rocky trails and bolders. He does get very tired/bored on the flat trails. We used the free buses to visit Southwest Harbor where we celebrated Alden's birthday on the 24th and also Bar Harbor. Alden and Peter picked enough blueberries yesterday to make a pie. Last night we enjoyed the company of Bob and Katie Strong of Seattle who are here aboard "Firefly" the Morris 45 they recently purchased. Kirsten cooked a wonderful pork loin, potatoes, and green beans, which we topped off with fresh backed blueberry pie and ice cream. It is with full holding tanks and fond memories that we set sail today for the Merchants to make some westing towards Sebasco Harbor where we'll meet with Mike McGonagle and his family on August 3rd.
From Somes Harbor, we motored and sailed on a sunny day to McClatherty Island, transiting Casco Straights. McClatherty, in the Merchant Island group south of Stonington remains one of our favorite destinations. We managed to squeeze in close to the shore, anchoring in 12' mlw and found protection as strong thunderstorms passed that afternoon. We watched a number of other boats drag anchor. The next day we hiked across the island and then around the south side, bolder hopping on the granite rock. Alden loves scrambling on bolders far more than "boring" trails. Back at the NE cove, Dan and Kirsten decided to cool off in the very clear yet cold 58 degree water. After lunch, we enjoyed a nice sail in 10 knot SW winds over to Vinalhaven Island, through the Fox Island Thorofare to Perry Creek. The next day we tried sailing in light wind across Penobscot Bay to Rockland but ended up finally dousing the spinnaker and motoring into Rockland Harbor for a few days on mooring. The annual Lobster Festival was going on and Alden convinced us to ride a few of the carnival rides. We also visited the Transportation Museum at Owl's Head and toured the naval ship USS Whidbey Island.
On August 3rd, we motored out of Rockland Harbor and headed for Owl's Head Channel and Muscle Ridge Channel where we ran into dense fog. Navigating with radar and GPS chartplotter, we were thankful for the new VHF/Hailer with automatic fog signals. Finally, as we passed Port Clyde, the fog lifted and we set sail in light SE winds. Sailing slowly through Muscongus Bay we rounded north and west of McGee Island and then entered Harbor Island where we anchored for the evening. We enjoyed a nice walk ashore at this private island. The following morning, after a few hours of homeschooling for Alden, we motored southwest in Muscongus Bay until running into an absolute downpour and lightning storm which wiped out radar and made the GPS and fluxgate compass act crazy. We quickly turned 180 degrees and throttled down to bare steerage instead of proceeding to thread the ledges of Muscongus. Luckily the storm passed quickly allowing us to proceed around Pemaquid Head, past Boothbay, and around the Cuckholds to the Sheepscott River and into Harmon Harbor. This nice harbor is underated in the Maine cruising guide. We picked up a mooring offered by local homeowner Bill Kelly. Pete, Alden and Dan kayaked and walked on a small island at the inlet to the harbor. Then, Pete dove and changed the shaft collar zinc. The next morning we let rain pass and Alden homeschooled. We then motored to Seguin Island and set sail in WSW winds sailing the rest of the way to Sebasco Head Resort where we met up with Mike, Nan, Carley, and Aiden McGonagle.

Sebasco Harbor Resort is a wonderful place where a $40 mooring provides access to all the resort facilities including salt water pool, fitness center, game room and bowling alley, family activities, kid's camp, laundry, etc. And, the Giffords ice cream is only $2 for a large cone. Overall, the weather during these past two weeks has been rainy. Finally on August 5th the sun decided to come out for a day. We loaded up the boat with Mike and family and beat up to "The Basin" just five miles up the New Meadows River for a picnic, swimming and kayaking. "The Basin" is a cool spot were water temperature measured 65 degrees. The men and kids enjoyed swinging from the spinnaker halyard and jumping into the water. We then rigged up a dunking chair using the spinnaker pole. After sailing back to our Sebasco mooring, Aiden, Alden, and Carley were each hoisted aloft in the climbing harness. Kids need their thrills!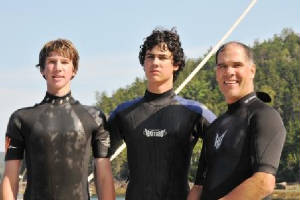 Eric, Graham and Charlie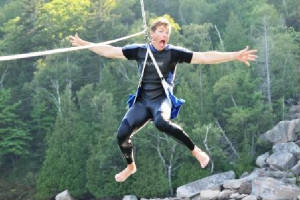 Pete before the plunge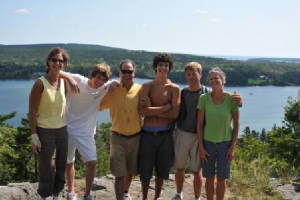 Suzie, Eric, Charlie, Graham, Peter, and Kirsten Note: photo by Alden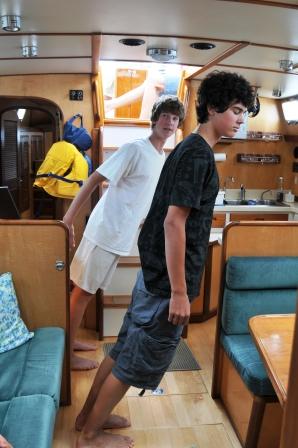 heeled over below deck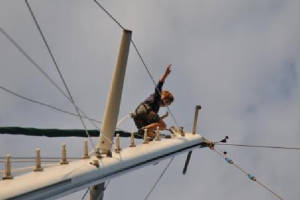 Alden 70' above the water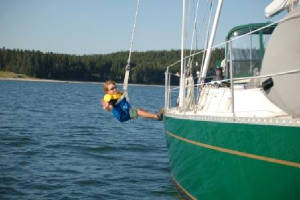 endless hours of swinging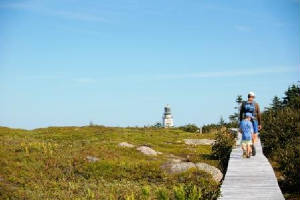 Mistake Island boardwalk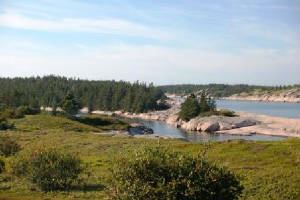 Mistake and Knight Islands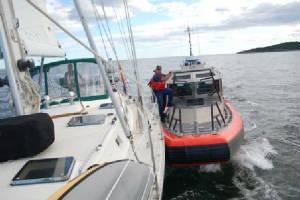 Homeland Security(aka USCG) boarding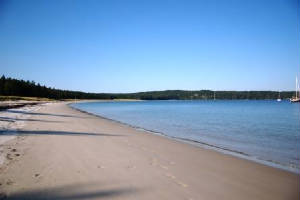 Roque Island beach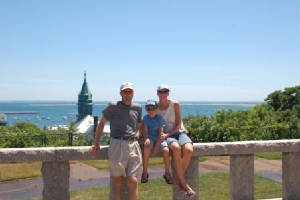 Provincetown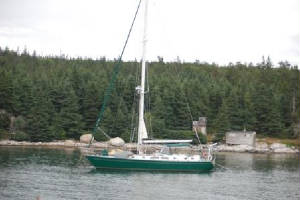 Duck Harbor, Isle Au Haut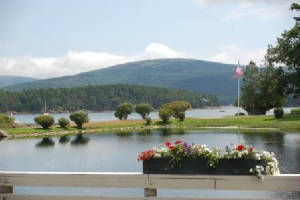 Somes Harbor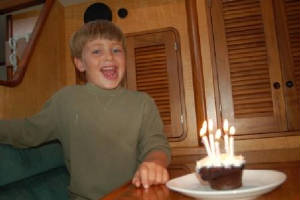 Alden's 6th birthday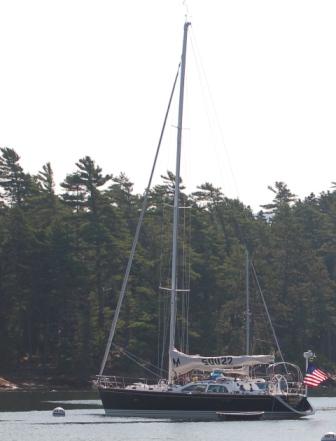 Bob & Katie's new sailboat "Firefly"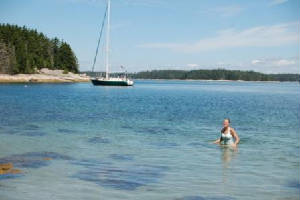 McClatherty Island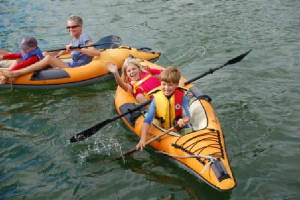 Kayaking in "The Basin"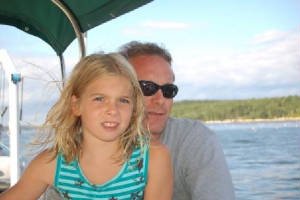 Mike and Carley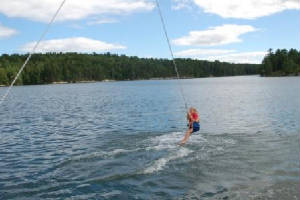 Swing and dunk in "The Basin"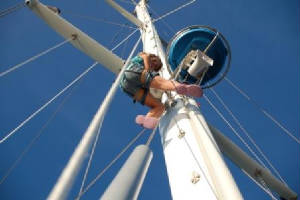 Carley going aloft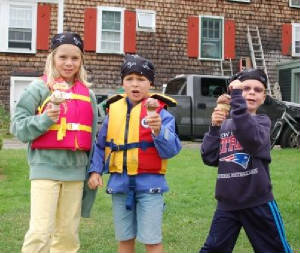 three pirates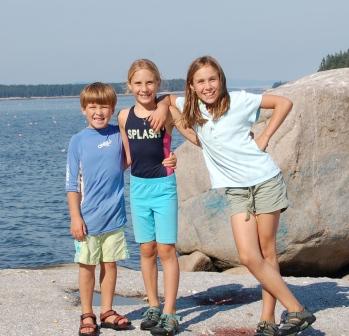 Alden, Max and Jollie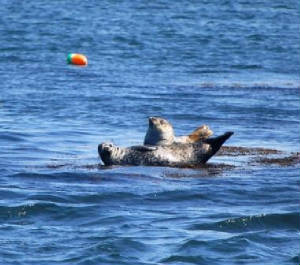 Seals on rock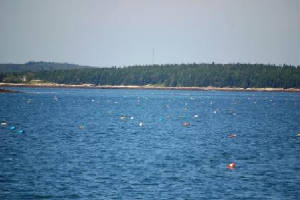 a maze of lobster pots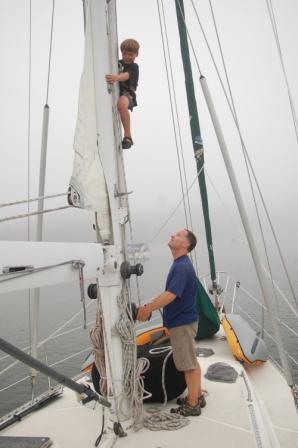 Dan hoisting Alden up the mast