St., George schoolboys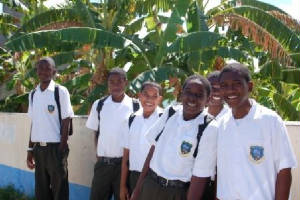 Ichiro fan visits Grenada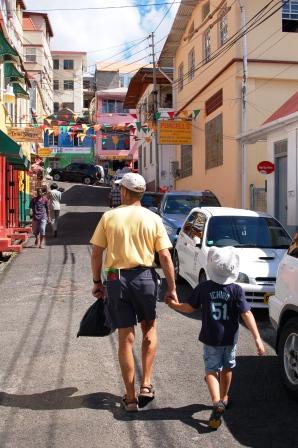 3 April, 2009-Anchored Prickley Bay, Grenada-Newsflash! Alden lost his first tooth this morning; about time! We're in good company here in Prickley Bay with many other cruising sailboats, including our friends on "Pickles" who are just two hundred feet to starboard. On March 29th we sailed straight downwind from Union Island, past Carriacou, around the underwater volcano "Kick 'em Jenny", along the west coast of Grenada before anchoring off of Grand Mas for the evening. The following morning we motored three miles south into St. George harbor and docked stern to at the Grenada Yacht Club. Les and Marcia headed for town with Kirsten, Alden and I walking into the old part of St. George soon after. St. George is a neat old city/town, still showing signs of destruction from hurricane Ivan in 2004. Many old churches are still roofless. We had lunch at a local restaurant, the "Creole Shack," then walked up to the market area. Being a pedestrian here in Grenada requires much attention as sidewalks are sporadic, roads narrow, and traffic dense and fast. It was enjoyable watching groups of school children in uniform, making their way to school at 2:00pm. That evening we took our dinghy across the harbor to BB's Crabback restaurant where Les and Marcia treated us to an awesome dinner. BB, the chef is a local Grenadian who trained in London. The food was amazing. On the 31st, we motored around Pt. Salines, the SW corner of Grenada, and anchored here in Prickley Bay to join "Pickles" and be in an area where we could swim. The following morning Les, Marcia and I took a taxi to Grande Anse Beach and the Flamboyant Hotel where Les and Marcia spent their last night in Grenada before returning to Seattle. Les and I then enjoyed two dives from the Dive Grenada shop and boat right below the hotel. We dove first on "Purple Rain" reef and then "Southern Comfort". Both of these reefs had healthy, colorful coral. With our dives wrapped up at noon, I said "goodbye" to Les and headed back to Prickley Bay where Kirsten and Alden had spent the morning doing school and then swimming at the beach with the "Picklitos."
Survivors of the big jump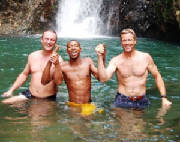 Pete takes the big jump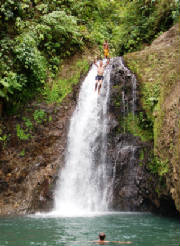 Yesterday we hired a taxi along with the "Picklitos" and headed up to Grand Etang Forest Reserve. Our first stop was the visitor center at 1900' where the weather was cool and comfortable. After a short hike there and some interaction with the spice vendors, we caught a local bus ride downhill to Seven Sisters Falls. From the parking area, we hiked downhill for about a twenty minutes. The falls were surprisingly nice. The kids swan in the first pool and jumped from ten foot high rocks into the cool fresh water. I , the only adult foolish enough, followed guide Clifford up the steep, muddy trail to the highest falls where we jumped, dove, swam, and walked down through the succession of five falls, finally arriving at the big momma. With the kids and smart adults watching from below, I took the forty-five foot leap off the waterfall and into the pool below; definitely a thrill. Of course Clifford, the guide, had to show us the proper technique by doing a back flip off the falls. Exhausted and weary we returned to the boats just in time for dinner. We've all been pleasantly surprised by the good nature and friendliness of the Grenadians. Unlike other Caribbean islands where tourists/cruisers are seen as dollar signs, the locals here seem much more genuine with their interests, help and service.
Hike to Seven Falls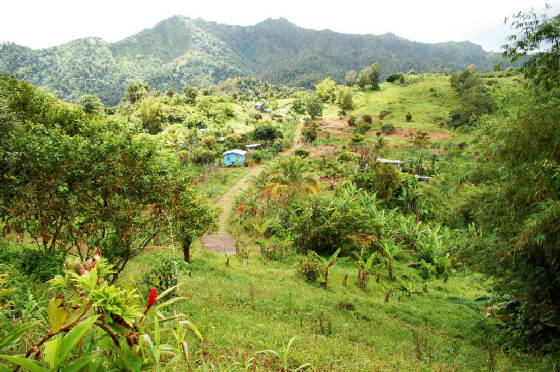 Seven Falls; lower pond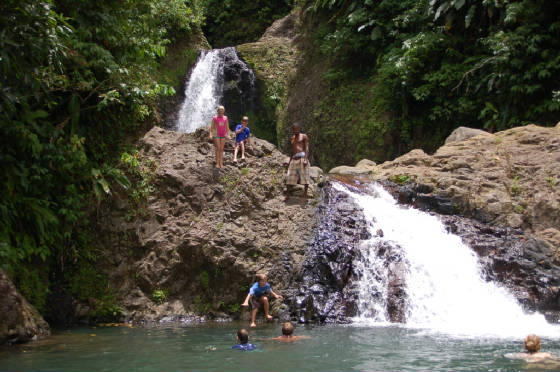 St. George, Grenada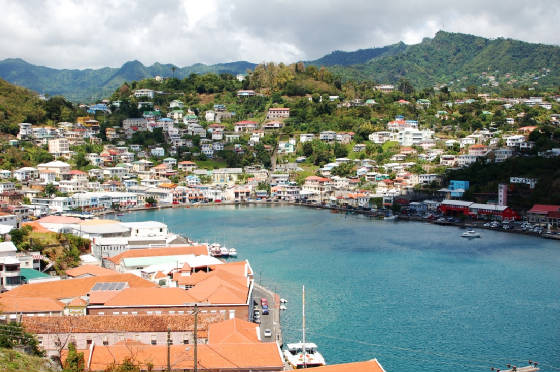 28 March 2009-Anchored Clifton Harbor, Union Island, The Grenadines; On the 25th, we sailed around Mayreau and into the turquoise waters of Tobago Cays, a small archipelago marine park just east of Mayreau. What a beautiful place! Lot's of turtles, reefs, and fish. We swam with turtles, snorkeled the reefs, had happy hour on the beach with "Pickles" and some other boats, and watched kiteboarders dance with the wind. I can see what this is such a popular place for cruising boats. Waking to twenty five knot winds, we left the Tobago Cays yesterday morning and sailed a short three miles to Clifton Harbor here on Union Island where we're currently anchored. This harbor is well protected by low lying reef but totally open to the shrieking wind. Kirsten managed to refill the food lockers at the produce market and supermarket while Alden and wandered and read books ashore. Les and Marcia are hiking over to Ashton for lunch. They've been troopers with Alden and showing us some great tricks in the galley. Right now, Kirsten and Alden are ashore with the Pickles kids and Joanni while I catch up on this website. Tomorrow we'll sail south to Grenada with plans to do some touring there.
Tobago Cays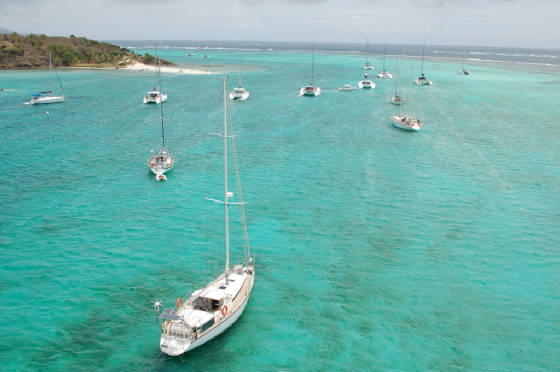 Turtle Sanctuary, Bequia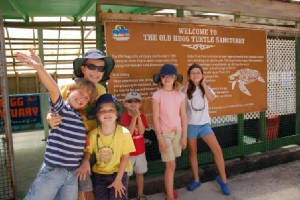 Kids climbing for coconuts; Tobago Cays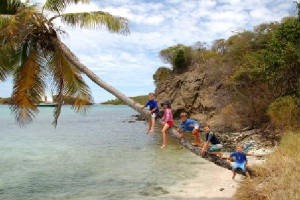 17 March 2009-
Anchored Bequia, The Grenadines;
The new photos on our home page were taken by a local photographer as we entered Admiralty Bay on Beaquia in the late afternoon.
We had a difficult time getting our anchor to hold as rain squalls tore through the crowded Port Elizabeth anchorage.
After getting it set, I quickly dove on it and piled a dozen rocks on the half exposed flukes to encourage further burying.
We spent a very relaxing week in this delightful harbor.
"Pickles" joined us the following afternoon anchoring just ahead of us.
We enjoyed many hours swimming, exploring the beach, touring the turtle sanctuary and dining with the "Pickles" gang.
On the 23
rd
, we were joined by Anacortes friends, Les and Marcia Books.
Six years ago, Kirsten and I sailed with Les and Marcia aboard "Indigo" their HR46 from La Paz to Manzanillo.
It was our turn to have them aboard "Charlotte" to help sail south to Grenada.
On the 24
th
, after a last morning bagette run, we sailed in light winds south to Mayreau Island and even used our cruising spinnaker to help us along.
We managed to anchor just before sunset, right next to "Pickles" and take a quick swim.
Pirate Ship off The Pitons, Soufriere, St. Lucia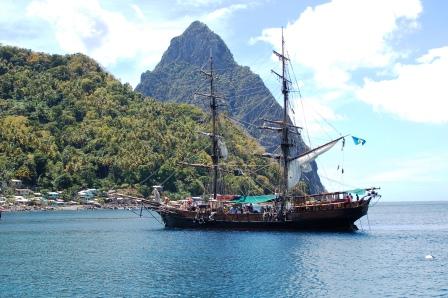 Rodney Bay, St. Lucia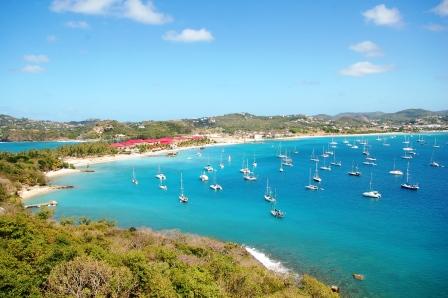 St. Anne market
St. Anne, Martinique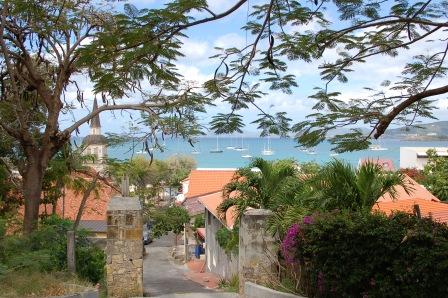 On the 13th we sailed 25nm downwind to Rodney Bay, St. Lucia and anchored outside of the Lagoon. Here we shopped at the large super market, hiked to the top of Pigeon Island, and met up with "Stray Kitty" with a Canadian cruising family aboard. On the 15th we sailed down the west coast of St. Lucia to Soufriere and the Pitons where we picked up a mooring just below Petit Piton. The following day we hiked around Soufriere and up to Diamond waterfalls, hot springs, and waterfalls. We had a hard time getting Alden out of the therapeutic baths. He kept telling tourists passing the baths that a scrape he received earlier had been miraculously healed by the curative waters. Despite the "boat boys" doing their best to sell us a tour or really anything, we resisted and departed on the 17th for Bequia. We sailed south through some viscious rain squalls to the west side of St. Vincent where calm winds forced us to motor we entered the Bequia Channel where we were soon reaching along under reefed main and genoa.
Pickles for dinner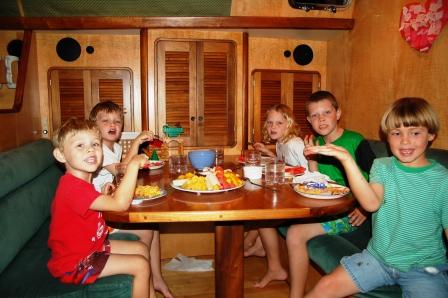 From Portsmouth, Dominica we sailed had an enjoyable but long daysail to Grande Anse de Arlet on the southwest coast of Martinique. After a quiet night at this sheltered anchorage, we beat in light winds around the SW corner of Martinique, past the very cool Diamond Rock which had been used by the British as a fort at one point during the many years of battle with France. By noon we anchored just astern of "Pickles" off the picturesque town of Ste. Anne. Three bakeries, a nice local market, and good beaches were the attractions here. The following morning, I took the dinghy two miles north to Marin and cleared customs. These French Islands have very informal customs. One sits at a computer, enters information about crew and yacht, and prints out a form which is stamped by the customs officer; all without showing any papers or making any payments. It's too bad the other Countries didn't make it so easy. Our only snag with this perfect little stop is that the bare shelves at the supermarkets. The labor strike was still on in Martinique and container ships were not being offloaded. All of those great wines and cheeses being sent from France were unavailable.
Alden takes the plunge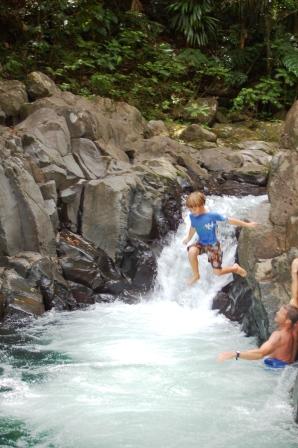 Kirsten leaping into Chaderie Pools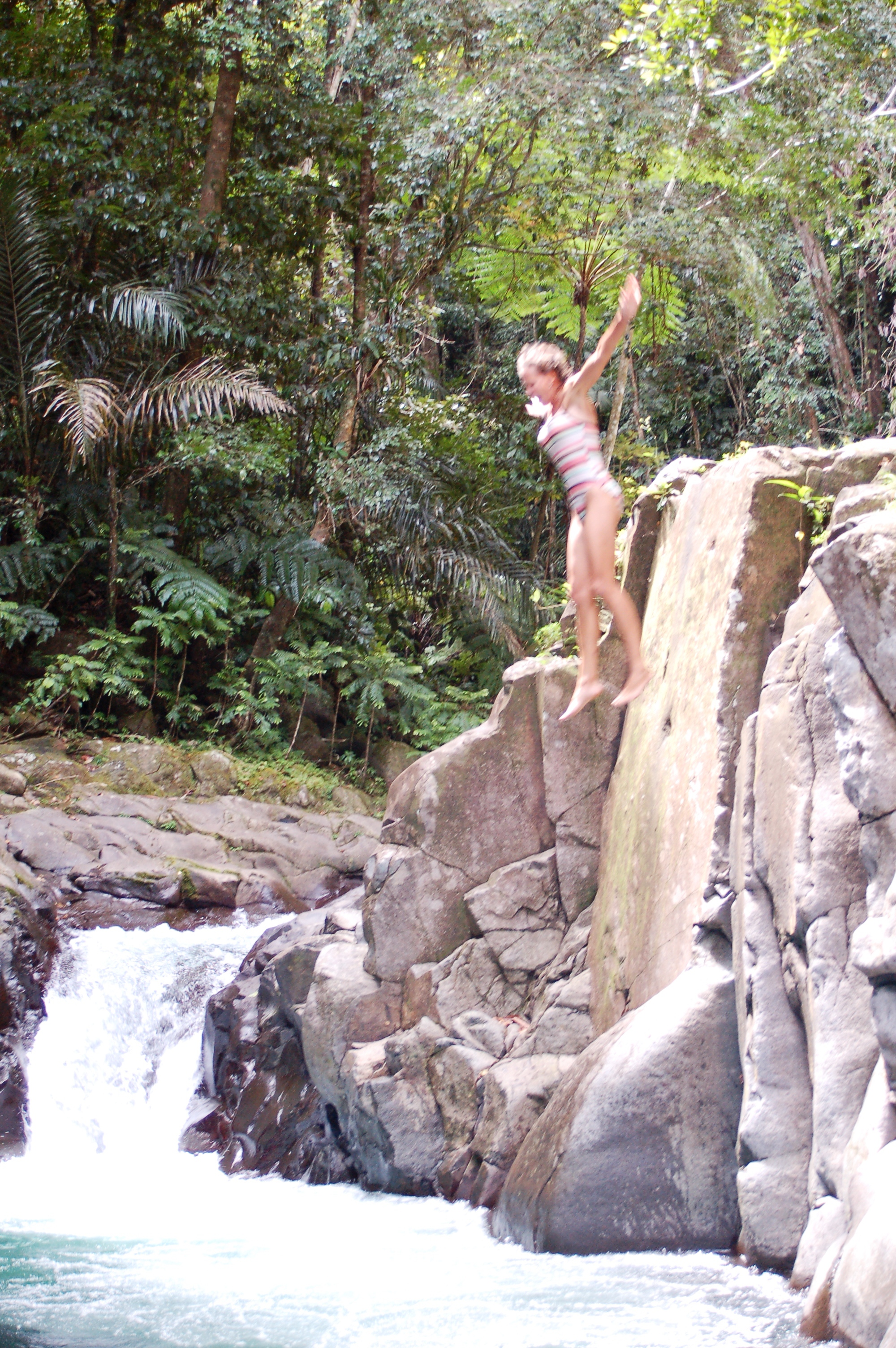 Stick bug on banana leaf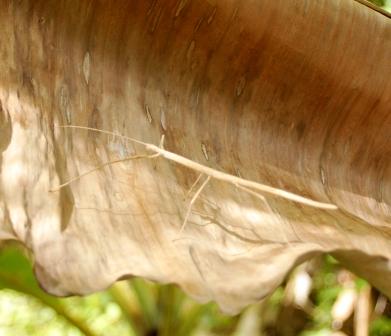 Market in Portsmouth, Dominica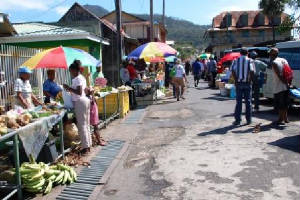 Old church in Dominica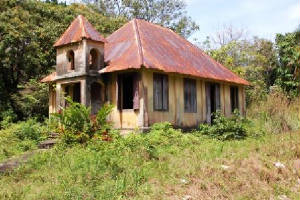 8 March 2009-Anchored Portsmouth, Dominica-What a lush island! We arrived at this verdant fruit basket of an island on Wednesday after a windy, wet, close reach from The Saints. We anchored in Portsmouth harbor, which is really a large bay, right up next to the beach where the reggae, salsa and other music blares to the wee hours each night. There's about forty cruising boats anchored here and on our first night, we spied a family with four children all about Alden's age returning to their boat from ashore. Alden and I later motored over to say hello and were pleasantly surprised to find it was the famous kids boat "Pickles" we had been told to watch out for. Guy, Joannie, Christopher, Julia, Henry, and Will are on an indefinite cruise on their Trintella 49A. We managed to spend the last two afternoon/evenings with them, swimming, swinging, and dining aboard each other's boats. Alden really had a blast playing with them. Two days ago, we took a guided tour of the Indian River with "Edisson." This river starts right in Portsmouth and wanders about two miles. It's completely overgrown with trees after the first mile. Today we took a tour with "Martin" one of the local guides, who is also a botanist," up to Chauiere Pool , the village of Calibishie and Red Rocks. The entire time, Martin showed us many fruits, plants, trees, and vegetables. The island is prolific with bananas, guava, papaya, cinnamon, almonds, oranges, lemon grass, grapefruit, bay leaves, thyme, and many, many other useful plants growing everywhere. There's no reason to starve here. We hiked about a half mile into the pools where cool mountain water flowed over a small waterfall into a bubbling pool. We jumped off a twenty foot cliff into the bubbling pool. It was a great time and Martin was a perfect guide, sharing his love of the island and its natural bounty with us. Kirsten had a great time at the local market yesterday and came home with three bags of produce, fruit and other staples. We could see spending a lot more time touring this island with so many hikes, waterfalls, and very friendly locals. But the wind blows fair and we'll head to Martinique tomorrow morning.
Indian River-End of the line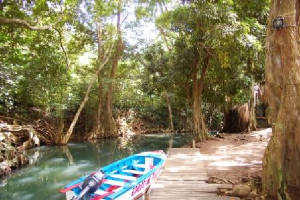 Martin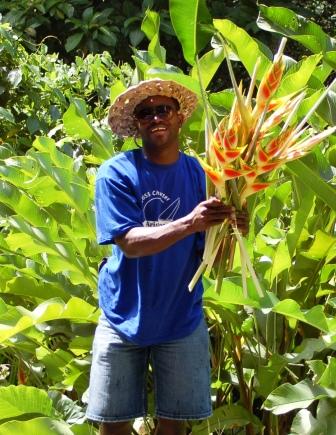 Indian River Guide Eddison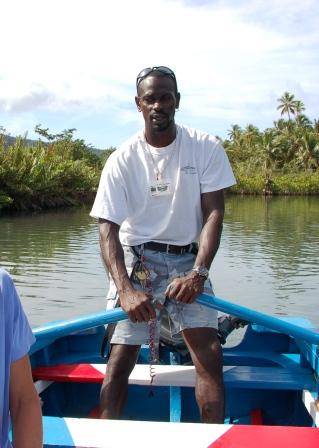 Leeward Islands 2009
View from Fort Napolean looking south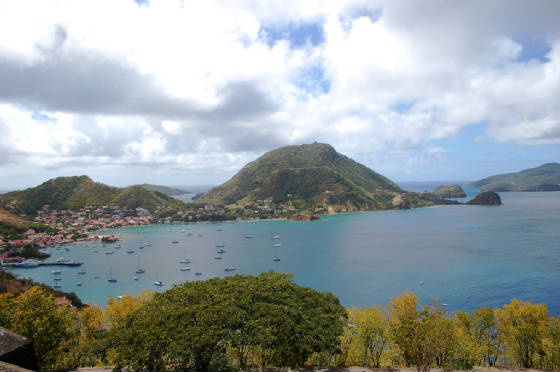 Bourge des Saintes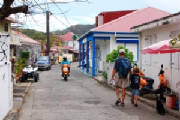 Goats climbing walls of Fort Napolean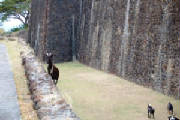 3 March 2009 Still anchored off of Bourge des Saintes-Yes we're still here but since we have very good internet access we'll take the opportunity to upload some photos to the website. Today we explored this island further. After morning coffee and listening to the "Cocoanut Telegraph" Caribbean cruiser's net at 0830, we went ashore for croissants at the boulangier. I'll be the first to admit that I'm struggling with French. Just a few people speak English here. It would be great to have our French fluent friends/old neighbors Renee, Eric, and Sophie here. After a very late breakfast, we cleared customs at the police station and then hiked up a large hill to Fort Napoleon. This early 18th century fort has great views and a wonderful museum and cactus arboretum. We also watched some iguanas and witnessed goats scaling near-vertical rock walls. Then it was back to the boat for a late lunch, home school, swimming, and a load of laundry. Yes, we run our small clothes washing machine every other day while charging batteries and making water. This has saved us from having to visit laundromats or seeking laundry services when in port. Clean sheets and towels each week along with very clean clothes were a requirement for Kirsten to come cruising. Tomorrow we'll head ashore to do some last minute shopping before saying "avoir" to this beautiful French fishing village. It's only 16nm to Dominica and we hope to be anchored in Portsmouth by noon.
Kaia, Alden, and Skyler at the volcano obsevatory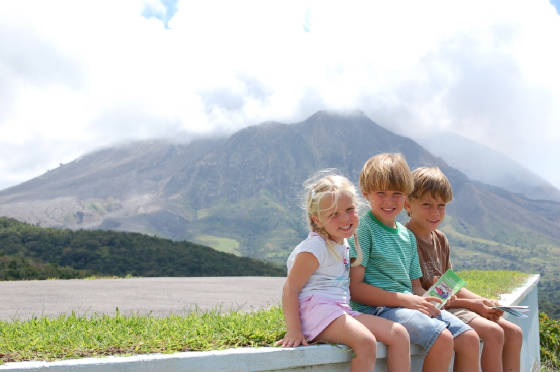 House burried by mud/lava flow on Bellam River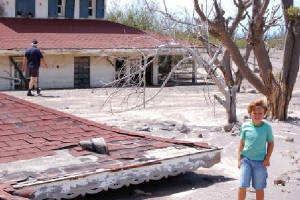 2 March 2009 Anchored Isle des Saintes, Guadeloupe- We awoke early on the 28th for our forty mile passage to Montserrat which turned out to be a mellow motorsail with the mainsail and staysail sheeted in tight. After arriving and perusing the rolly anchorage of Little Bay, we motored a mile north to the more scenic Rendezvous Bay which was also feeling the northerly swell, but far prettier and close to a nice looking beach. After clearing customs, Alden and I swam into the beach for some boogie boarding. After a few gentle rides, Alden got knocked down by one breaking wave and washed up on the beach in a sandy, sobbing mess. Kirsten swam in and went for a hike ashore while Alden and I built a big sand castle. Just before sunset Kauhalikai the "kid boat" arrived into the anchorage after a long sail from Nevis and we made plans to tour the volcano the following day. At 0900 on the 28th, we picked up Gill and Sandra along with Skyler-7 and Kaia-4 for a day of touring Montserrat and the Soufriere Hill volcano. Mr. Thomas Lee was our taxi driver/guide and very informative. He's lived on the island for sixty-five years and seems to know everyone of the five-thousand residents. We first drove over very steep, windy roads up to the national volcano observatory where we learned about the history of this active volcano and were able to see the still smoldering flanks and large areas of destruction from the massive and continuing lava and mud flows. Visible to the west was the remains of Montserrat's main city of Plymouth, now evacuated and in the exclusion zone. Only the top third of the island is now habitable. Over half the pre-1997 population has left. The remaining half clings to life on the very steep northern third of the island. Thanks to the rainfall from the hills, the western side of the island is lush with all sorts of fruit bearing trees. Goats and sheep wander graze everywhere. There are only two sandy beaches on the island. One is a short 100yds of sand in Little Bay and the other is in Rendezvous Bay, accessible only by boat. After returning from our island tour we took the kids over to Rendezvous Bay. Alden and Skyler really enjoyed playing together. I snorkeled behind Sandra, a marine biologist specializing in coral, as she inspected a reef just north of the beach. We found mostly ghost stag horn coral and colonized rocks. We were caught unarmed as a very large spiny lobster walked out in the open between some rocks. We also saw a few small hawksbill turtles. The kids were having such a good time playing together that we shared dinner aboard Kauhalekai. Unfortunately our paths were diverging the following day as they were headed on to Antigua.
On Sunday we made a long 73nm passage from Montserrat to the islands of Ilse de Saintes just south of Guadeloupe. We motored around the north end of Montserrat and then sailed south along the east side and upwind of the volcano. Winds backed to east north east as we approached Guadeloupe and we enjoyed some eight knot speed and smaller seas. Eventually, after a long day under sail with just a few hours help from our engine, we anchored off the town of Bourge des Saintes along with about thirty other cruising boats. The Saints are a small group of islands that are part of French Guadeloupe and have survived by fishing as opposed to agriculture. Yesterday we walked around the charming town which now caters to day tourists from Guadeloupe and cruisers. Local grocery stores were just restocking shelves after the disruption in supply caused by riots in Guadeloupe and Martinique. Today we'll spend some more time exploring this town which feels more like the south coast of France than the Caribbean.
Phinney Beach, Nevis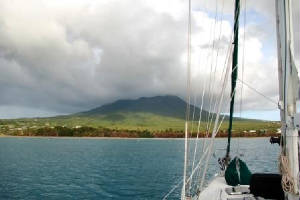 27 February 2009 Anchored Phinney Beach, Nevis- We left St. Barts two days ago but not before taking in their Carnival parade which was a hoot to watch; dancers, bands, Beattles, Elvis, drag queens, confetti, and much revelry. Our sail south to Nevis was quick and wet; close reaching into twenty knots of wind and eight foot seas. Lots of salt spray, some sea sickness and two mahi-mahi's caught just before entering The Narrows between Nevis and St. Kitts. Standing the bull on tail, it measured a full 48" using Alden's 49" height as reference. After picking up a mooring I cleaned and filleted both fish; enough food for six dinners! Yesterday we toured Nevis. It's a nice island without St. Barts' glitz nor the poverty and filth of the Dominican Republic. We walked around the town of Charlestown and then took a local bus up to the Golden Rock Plantation, an old sugar cane plantation now operated as an inn. With panoramic vistas and a terraced restaurant set among the two hundred year old stone buildings it's a special spot. Our bus ride up was insightful. The bus driver and other riders were extremely helpful with two elderly women and their groceries. Overall, the locals seem to be very happy. Swimming into the beach, I met some other cruisers with kids Alden's age. Like us, they're sailing to Montseratt tomorrow morning.
The Beattles, St. Barts, Carnival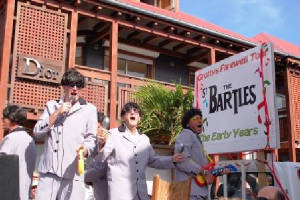 Carnival, St. Barts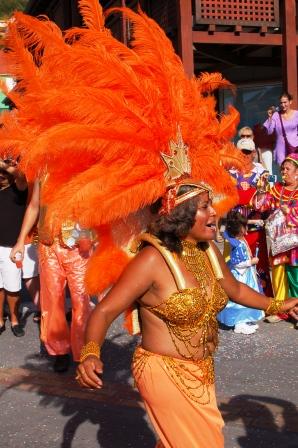 Gustavia Harbor, St. Barts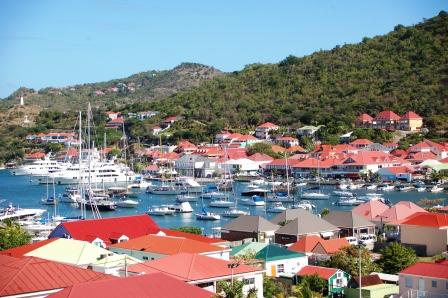 24 February 2009-Anchored Gustavia, St. Barts; We've been at this very chic, French island for a few days waiting for the big Carnival parade which happens this afternoon. We left Virgin Gorda on the 16th and motorsailed overnight across the Anegada passage to Sint Marteen (as the Dutch spell it), arriving at 0700 on the 17th. At 0930, the first drawbridge opening, we motored into Simpson Bay Lagoon and anchored, then cleared in with customs. The Dutch side of St. Marten is now pretty much surrounded by megayachts; the number of these yachts and their size is both impressive and a barometer of the huge separation of wealth that has occurred during the last decade. Walking ashore to the marine vendors and Ace hardware, we found little else attractive about the Dutch side of Sint Marteen. A short dinghy ride in the Lagoon brought us over the border to the French town of Marigot which is delightful. Restaurants surround the malecon and the town is clean and charming. We found a delightful pattisiere and pizza restaurant. While in St. Marten, I was able to meet up with some friends/clients, both cruising aboard their Hallberg-Rassy 43's. Jerry & Karen Eaton of Belevedere, CA have been cruising "Blue Heron" for five years and are on their way north to Maine. Tom Robinson of Calgary left Seattle two years ago on "Rogla" and is wrapping his cruise up in Annapolis this spring. We also spent time with our friends on "Geru" who love riding in our dinghy as theirs is small and always a soaker. A short but wet/windy motorsail with reefed main and staysail into eight foot seas and twenty-five knot winds brought us here to St. Barts where we spent the first night at the lovely Anse de Columbier anchorage. We're now just two miles south at Gustavia where we've spent time walking ashore, shopping at the modern but small market, walking up the hills for views of the area, and gawking at the sumptuous restaurants which seen to be everywhere. Very cool electric cars and scooters dash through town and into the mountains where the rich and famous have winter homes. The streets are clean and officials very efficient and courteous. A nice place to spend time but the anchorage is very rolly. Tomorrow we'll sail down to Nevis.
Marigot, Saint Marten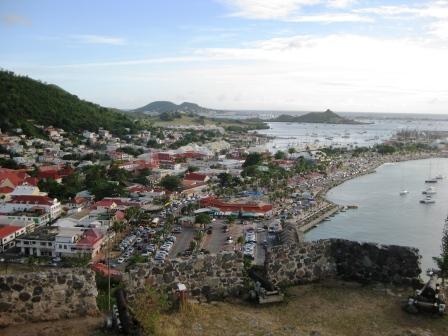 The Baths, Virgin Gorda, BVI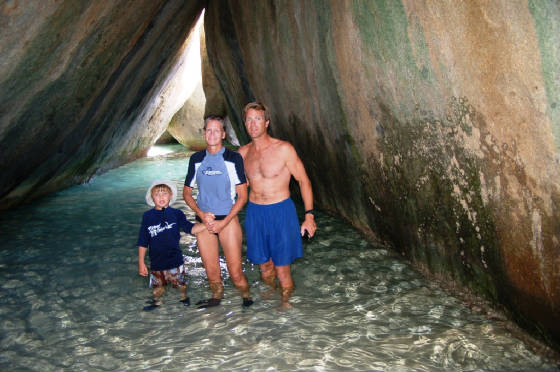 At the Baths, BVI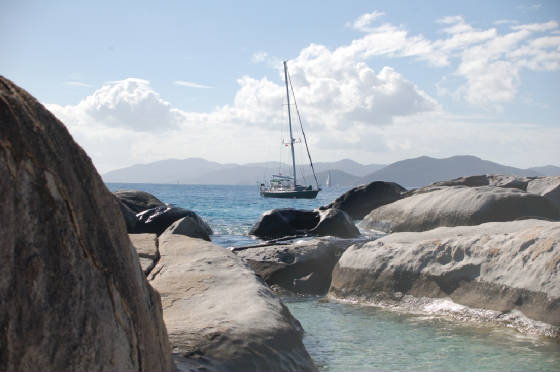 From Peter Island northeast to Drake Passage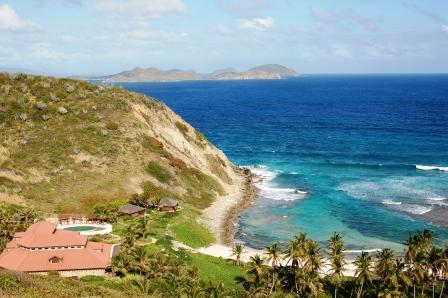 15 February 2009-Moored at the Bitter End Yacht Club, Virgin Gorda – We spent another day at Peter Island, waiting from strong easterly winds to ease up. Alden got lots of schooling in. After lunch we dinghied into the head of Great Harbor and walked over to Deadman's Beach through the grounds of The Peter Island Resort. This very upscale resort is beautiful with tasteful accommodations and well kept grounds. A typical room will run $1000 per night. They are nice enough to let visiting yachtsmen use a section of Deadman's Bay which looks northeast into Drake Passage. Alden and I build sand castles and played in the waves while Kirsten hiked up some nearby hills with excellent vantage points. In stark contrast to the resort's grounds, one small shack sits on the isthmus between Deadman's Bay and Great Harbor. A local, Conrad, has been living here for over a half century, helped with construction of the resort and fished for many years. He's now blind but makes his way to the harbor each day to help yachtsmen land and launch their dinghies. He's strong and surefooted and wise in a Yoda like manner. Most yachtsmen make contributions to him for crossing his land and his help with the dinghies. After returning from Deadman's, I decided to do an exercise snorkel from "Charlotte" as there was nice reef just a boatlength from where we laid. Returning to the stern after this swim, I was joined by a large female dolphin and her youngster. They swam around me for a few minutes and then headed for "Charrlotte's" bow. I followed them and watched as mama swam up and down our nylon secondary anchor rode, rubbing her snout on this line. After five minutes of this play they were off. Only a foot away from me; that's the closest I've ever been to dolphins while swimming.
On the 13th, we beat up Drake Passage to The Baths at Virgin Gorda where we moored and spent the afternoon exploring the caves. Alden really enjoyed climbing over the large, round boulders. We did some snorkeling among the rocks but northerly swells made this challenging. As sunset, we motored up to and anchored off of Spanish Town. Yesterday morning we motored five miles into the wind here to Gorda Sound and picked up a mooring at the Bitter End Yacht Club. Our mission: find some kids for Alden to play with. While I watched kiteboarders and attempted internet access, Alden and Mom hung at the pool and managed to meet some other families and kids. We'll spend today here as well before returning to Spanish town tomorrow morning to clear out of customs, spend a little more time at The Baths, and motor/sail to St. Marten tomorrow evening. A rare cold front is forecast to cross the Anegada Passage on Monday night, bringing calm, then northerly winds. We should be in St. Marten for a few days before heading south through the Leeward Islands.
Conrad of Peter Island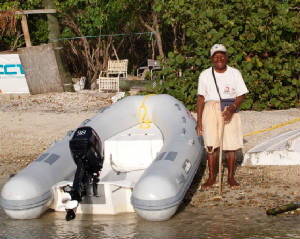 Peter swimming with dolphins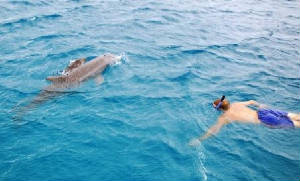 Coaxing Tarantula out of it's hole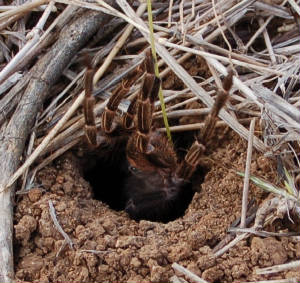 11 February 2009-Anchored Great Harbor, Peter Island, BVI- From Lameshur Bay we circumnavigated St. John, spending another night at Honeymoon Bay where we went ashore for dinner and then retrieved a package from Grandma Suzanne at the post office. We then motored to Soper's Hole at the west end of Tortola to clear customs and provision. Alden ended up with a new boogie board to replace the last one he broke. After experiencing sticker shock over the cost of provisions at Soper's, we decided to sail to Norman Island for the night and then onto Road Town the following day. After leaving Norman's, we stopped at The Indians to snorkel. This nice reef/rock area just off of Norman's Island hasn't changed much since we last snorkeled there ten years ago while chartering. It's still beautiful. After anchoring off the cruise ship dock, we spent the afternoon ashore having lunch and obtaining some provisions at the Riteway grocery. It was sobering to see so many laid up bareboat charter boats at the Moorings, Sunsail and other companies in Road Town. The Bareboat charter industry is obviously being hit hard by the economy. After stowing our provisions, we motored three miles across Drake Passage to Great Harbor on Peter Island where we're anchored. Overall, it's been a very squally week with frequent rain squalls day and night. We dance both day and night to open and close our hatches as the rain comes and goes. Today it's blowing a steady 25 with gusts over 30 knots so we're staying put here at Peter. Alden is getting in an extended school session while I clean watemaker prefilters, shower sumps, and begin to think about preparing our income tax return for 2008; something we can't escape by slipping away to the Caribbean. Tomorrow the winds are forecast to ease off and we'll probably head to The Baths and Virgin Gorda with plans to cross the Anegada Passage to Sint Marten on Sunday or Monday.
7 February 2009-Anchored Great Lameshur Bay, St. John, USVI- Kirsten and Alden returned last Monday from the Virginia Beach. I was beginning to get very lonely on this big boat all by myself. That night we dinghied over to Honeymoon bay to watch the free beachside movie "Mama Mia" at the open air, bed sheet between the palms movie theatre. On Tuesday morning we hit the Pueblo supermarket for some provisions before motoring/sailing east from Charlotte Amalie, through Current Hole, to St. John and picking up a mooring at Honeymoon Bay. St. John is a beautiful Island with over 60% of the land being Natural Park. There are many protected bays with NPS mooring balls, sandy beaches and palm trees. We've found ourselves in a routine of boatwork/school in the morning and then beach visits in the afternoon. Seeking a more protection from the ferry boat wakes hitting Honeymoon Bay, we sailed over to Francis Bay and stayed there until this morning when NW swells penetrating the bay caused us to sail around the east end of St. John to Great Lameshur Bay where we've again picked up a NPS mooring for only $15/night. There's excellent snorkeling and hiking trails here that beckon after school time. We've also seen a lot of Hawksbill turtles around the boat. What's also interesting is that the size and value of the other boats sharing the anchorage has jumped from the $100K average of the DR and Bahamas to well over $500K here on St. John. My yacht brokerage colleagues will appreciate knowing we were surrounded by an Outbound 46, Santa Cruz 52, Hylas 49's, Anatares 44's, Liberty 49's, and a whole slew of other serious cruising boats. We're also seeing a lot of charterboats now. I guess this is the place many want to sail during the winter.
Charlotte Amalie Harbor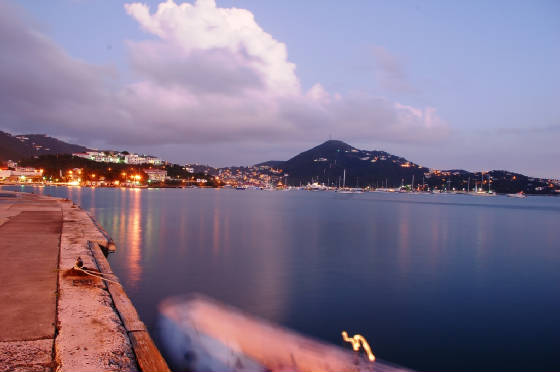 31 January 2009-Anchored Charlotte Amalie, St. Thomas, USVI- Yes, I admit it. I've had fast internet coverage for the last five days and haven't updated this website. That's what happens when the brush and sandpaper are my sole companions. Kirsten and Alden are back in Virginia Beach for the week and I'm taking advantage of their absence to varnish and paint. But first………
We sailed from Culebra to St. Thomas about a week ago, making landfall in Honeymoon Bay on the west side of Water Island. What a nice anchorage with a roped off, sandy swimming area and beach bar with live music. And, lots of cruising boats! After months of relative isolation in quaint, out of the way anchorages, the Virgin Islands definitely have a serious density of cruising sailboats. After exhausting two air tanks to clean Charlotte's underside of growth, and set the anchor behind a nice looking rock, we visited the beach and beach bar. Water Island would be my choice of where to live in the greater St. Thomas greater metropolitan area. We found out that they even have beachside movies on Monday nights. With a desire to be close to the stores and obtain wireless internet access, we shifted into Charlotte Amalie harbor on Monday morning, anchoring just off the lightly used USCG docks. Charlotte Amalie is a very big harbor with plenty of room, convenient dinghy docks, and alot of activity. After Kirsten finished packing her bags, we went ashore for lunch at a local restaurant and walked the old main shopping area along with the throngs of passengers off of three large cruise ships. Duty free rum, jewelry, electronics and souvenirs are everywhere. After lunch we returned to "Charlotte" and retrieved Kirsten's and Alden's bags and then took the dinghy to a beach very close the airport. It was a short 200 yard walk to the terminal. How many airports can one access by dinghy! Kirsten flew back to Virginia Beach for follow up appointments with her oncologist and breast surgeon. Alden opted to go along rather than stay with Dad and do boat work.
I've pretty much spent the week sanding, varnishing, painting, and cleaning. I've refinished the stb side salon upper cabinet doors, varnished the companionway trim, refinished the door trim to the aft head, refinished all the toe kick molding around the cabin sole, spray painted a number of exterior "touch-up" areas, and sprayed the two coachroof aft quartering panels. Yes, I am getting more proficient with a spray gun. Using the dive tanks as an air source and a touch up spray gun I've been able to get satisfactory results with only a few more runs than the Red Sox at Fenway Park. I've also taken the time to wander the alleys and backstreets of Charlotte Amalie each afternoon. As we've been told, this is probably the least expensive Caribbean port for rum and other spirits. One can purchase a fifth of rum for $3.50 with all sorts of nicer and varied rums and spirits for slightly more. Yes our bilges are now full. Kirsten and Alden return on Monday and we'll most likely take in the Water Island Monday night movie, provision on Tuesday morning and then head for St. John where beautiful coves, sandy beaches, and good snorkeling/diving beacon.
Puerto Rico January 2008
Burying Dad at Flamenco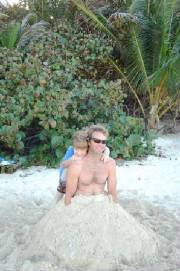 Flamenco Bay, Culebra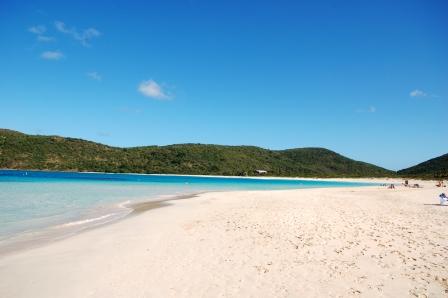 Exploring the mangroves in Bahia Ensenada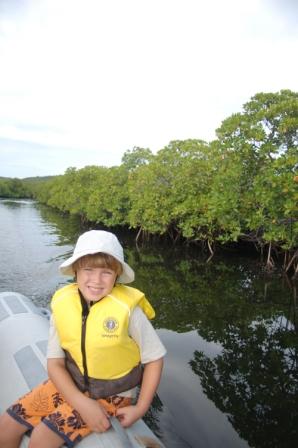 21 Jan 2009-Anchored Bahia Ensenada, Vieques- This morning we motored from Sun Bay to Bahia Ensenada just seven miles to the east. Bahia Ensenada is a very protected, large bay that is fringed by mangroves. There are some nice mangrove rivers running to the east that are reported to be excellent hurricane holes. Fleets of boats from both Puerto Rico and St. Thomas head to these mangrove rivers whenever hurricanes head for the Virgins. Today we're sharing the bay with only our friends on "Geru." We explored the mangrove rivers in our dinghy.
20 January 09-Anchored Sun Bay, Vieques, Spanish Virgin Islands- We departed the comforts and protection of Salinas on Sunday morning at daybreak, motoring along Puerto Rico's south coast 19nm to the beachside town of Puerto Patillas, anchoring inside of a reef. We spent the day doing boat projects and then dinghied into the town beach where local families were enjoying the weekend, listening to Soca music, drinking beer, and swimming. Just before sunset, we got underway, motored out of the reef and east towards Punta Tuna in eight knot headwinds. From Punta Tuna we set a course for the island of Vieques and arrived just before midnight, anchoring in Sun Bay just east of Vieques' "main town" of Esperanza. We spent the night rolling from side to side in swells which managed to wrap into the bay. After breakfast, we reanchored in the extreme SE corner and then ran a mooring line to a nearby mooring, pulling Charlotte's stern towards the wind and putting our bow into the swell; much more comfortable. Sun Bay is absolutely gorgeous; a mile-long, crescent, white sand beach fringed with palm trees. What's amazing is just how few people are here. We've met a few American families at the beach who are renting houses for the month. Vieques is still very much an undiscovered island for tourists. Having been used by the US navy for years as a bombing range, it's missed the tourism boom that's swallowed its eastern neighbors. I was able to find a few green coconuts on the beach and finally use the machete we purchased in Salinas to lop off the end and access the sweet milk inside. Now we can survive in the wild without provisions. Last night we took our dinghy over to Puerto Mosquito, a mangrove-lined, bioluminescent bay. Ruth and Geoffrey off the Ottowa based Prout 38 catamaran "Geru" came along as we witnessed this amazing spectacle. After entering the bay and shutting down the engine, our eyes finally adjusted. We spashed with paddles and observed as the dinoflagelates sparkled. Kirsten put on an amazing spectacle by jumping in and swimming, each stroke illuminated by the phosphorescent glow. As we motored out, fleeing fish streaked through the water just ahead of our bow.
Sun Bay, Vieques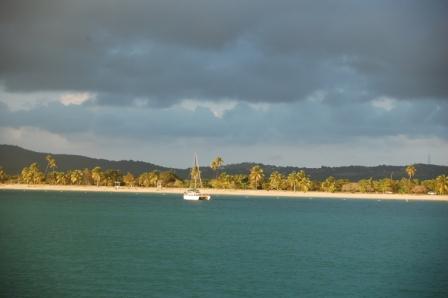 15 January 2009-Anchored Salinas, Puerto Rico- On Monday morning at 0730 we motorsailed 21nm east from Ponce to Salinas. We arrived in Salinas just in time as the easterly trade winds began blowing at twenty knots. Salinas is a much nicer anchorage with about forty cruising sailboats sheltering in the harbor. The town has a good marine store and lots of good seafood restaurants. We've left "Charlotte" for a few days to tour Puerto Rico by rental car. Yesterday we visited we took a "back road" over the mountains from Ponce, stopping at an indiginous peoples park which features archeological digs from a Taino gathering place. The mountain roads are very twisiy and the going is slow. It took us some time to find the right road to Ariceibo observatory, the world's largest radiotelescope. We eventually found it and enjoyed viewing this massive scientific tool that's been featured in a James Bond movie and also "Contact" with Jodie Foster. Last night we stayed at a very cool hotel in Old San Juan. "Da House" was right in the heart of Old San Juan and a very swank accomodation which used to be a convent. Lots of original artwork, very high ceilings, a rooftop hot tub were all hits with Kirsten and Alden. The late night music in the streets below and early morning trash trucks made for a difficult night of sleep. This morning we walked to Il Morro, the fort that protected the old city of San Juan. We also walked around the old city wall and through the town. What a cool old city with lots of restaurants, shops and museums. This afternoon, we drove to Luquillo, a beachside town on the northeast coast. Tomorrow we'll visit El Yunque rain forest before heading back to Salinas. I've just called Derek and Kathy, our friends from Victoria who are cruising aboard "Idyll Island" a Voyage 440 catamaran. They're kind enough to keep an eye on "Charlotte" while we're away. What a relief. This is the first time we've left the boat for more than a few hours.
Escondido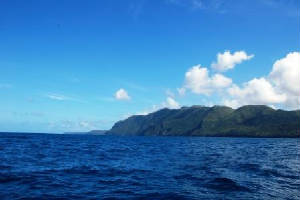 11 Jan 2009-Ponce, Puerto Rico – We're anchored off of the Ponce Yacht and Fishing Club and it's a beautiful morning with the full moon setting to the west and northerly offshore winds. We've logged some serious upwind miles from Luperon, Dominican Republic. So far, Puerto Rico seems like a different world than its westerly Dominican neighbor. But first, I need to catch up on our last days in the DR.
On Tuesday the sixth, we visited the DR's second largest city of Santiago. Departing "Charlotte" at 0700, we dinghied into Luperon's molle-town dock. A ten minute walk through town brought us to the guagua's. We piled into a guagua, which happened to be a Toyota Camry along with eight other adults and Alden. Amazing! After a half hour, 35km ride to Imbert, we boarded a bus for the one and a half hour ride to Santiago. This air conditioned bus had nice comfortable seats. It was fun seeing the Dominican countryside, mountains, and the broad Ciboa valley where Santiago is located. While in Santiago we climbed up The Monument which provided views of the city and a short lesson in Dominican history. The monument was originally built by the dictator Trujillo for himself but later changed to a monument to the resurrection after he was overthrown. Statues and information about Dominican heroes like Duarte, Luperon and others who fought for independence from Spain back in the late 1800's. A quick cab ride then brought us to Central Leon where we visited a clean, new art and modern history museum and then a cigar manufacturing plant. As best we could tell, the museum is owned and run by the Leon cigar company which is one of a half dozen hugely profitable Dominican businesses. Another cab ride brought us back to the center of town and Calle del Sol, the main shopping area. We then walked to a very large, modern food store to stock up on some provisions which are unavailable in Luperon. Loaded down with canvas bags, we walked to the bus station for our bus then guagua back to Luperon, returning to "Charlotte" just after sunset. It was an exhausting but enlightening day with plenty of opportunity to practice our Spanish.
With a good weather window approaching, we decided to head for Puerto Rico. I spent about two hours dealing with customs officials to obtain our "despacho" or exit papers. This involved two trips to the bank for exact change, filling out many forms, and visits to three different officials whose role is still unclear. The Dominican Republic has a well deserved reputation for vague and expensive customs/port official fees and procedures. All told it cost us about $150 USD in fees for our seven day stay. Not as expensive as the Bahamas $300 three month cruising permit, but a whole lot more unpredictable. As a seasoned Luperon cruiser described, "fees are what they are." It's troubling for those of us who are used to fixed prices and full disclosure of costs and fees. I guess that's part of the foreign travel experience. At 1700 the local capitano of the Guarda Naval visited "Charlotte" for one last inspection and delivered our needed despacho paperwork. After dinner we hove up the anchor and motored out of Luperon harbor with the day's last rays of sun.
We knew the first few miles to Punta Patilla would be difficult and they were. Motoring into six to eight foot seas, we were making only four knots and getting the boat well covered with salt spray. After rounding Punta Patilla at 2100 we altered course inshore towards Puerto Plata in order to find the night lee. After sunset the island's mountains and lands cool down. Eventually winds flow from the mountains out to the sea and cancel out the easterly trade winds and sometimes even create an offshore flow. This is what we were counting on to make our way east. We headed inshore and followed the 100' depth contour line and yes, by the time we put the lights of Puerto Plata astern winds became calm and seas slowly decreased allowing our speed to climb to six knots. In the company of a 44' Beneteau from Annapolis, "Ecco Adventurer", we motored all night along the coast watching the lights of many beach resorts pass. By daybreak we rounded Cabo Frances Viejo and headed Cabo Carabon at the NE corner of DR. By 1000 with winds up to 15 knots and seas building the decision was made; head for the protection of Escondido until dark. We dropped anchor in the small fjord-like bay of Escondido at 1300. What a dramatic setting. Huge palm covered hills plunging dramatically to the ocean. The cove itself had a small beach used by only a few fishermen who launch and set their nets in the surf.
After a few hours of sleep and dinner, we hove anchor at 1900 and headed northeast. Motoring just 200 yards off the steep, high cliffs in flat water, we were blasted by offshore gusts from eight to twenty five knots. An almost full moon illuminated the hills. This would be a very cool area of coast to explore in daylight with a sea kayak. An hour later we rounded the very dramatic cliffs of Cabo Carobona with its vertical wall and drop off. Once again exposed to the easterly trades, we motored along in six foot seas and ten knot headwinds making only five knots. With a prediction for decreasing winds and backing to the northeast, we set a course of 143 degrees and motored along. Each hour brought lighter winds and smoother water so that by daybreak we were seeing six knots and more with some help from our sails. The day turned out to be ideal for crossing the dreaded Mona Passage separating the DR from Puerto Rico. With very strong trade winds forecast for the upcoming week we decided to head all the way to Ponce on Puerto Rico's south coast. Rounding the SW corner of Puerto Rico; Cabo Rojo at 2330 winds peaked at 15 knots but quickly decreased to eight knots and even backed to NE as we headed east along the south coast, sometimes sailing and making seven and one half knots. By 0330 we entered Ponce and anchored off the Ponce Yacht and fishing club. We logged 294nm from Luperon to Ponce and were fortunate to cover these miles while the easterly trade winds were on vacation.
Yesterday, we brought "Charlotte" into the fuel dock at Ponce Yacht and Fishing Club. US Customs came to the boat and cleared us in. The two officers were absolutely delightful and professional. It cost us zero dollars. What a huge contrast to the Dominican Republic. We then took on 256 gallons of diesel at $2.01 per gallon, the least we've paid for diesel in a year. We had taken 25 extra gallons in Luperon to ensure adequate reserves for the trip. As best we can determine, "Charlotte" holds about 310 gallons of diesel and burns about 1.5 gallons motoring at 6.3 knots in calm seas. Besides the small Luperon supplement, we had not fueled since Solomons, MD in October. We appreciate our huge fuel tank after watching other cruisers do the jerry jug dance. After shifting back to the anchorage, I took Alden into the club's pool for a swim. We returned to the boat, ate dinner and collapsed into our bunks with the distant blare of Saturday night salsa music.
Virginia Beach to Puerto Rico Track
Domican Republic 2008
Rolling a Nice Stogie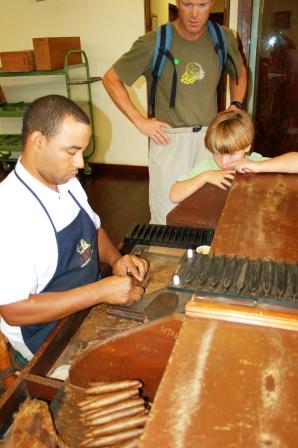 Fresh Coconut Milk