Virginia Beach to Rhode Island


On June 14th
Charlotte
left Gamage's dock in Virginia Beach and headed north for Rhode Island. Aboard were Peter, Mike, Frank, Chuck, and Tim McGonagle. Dan Rumplik once again joined us to keep all the Mc's in line. Kirsten and Alden stayed behind to finish up school and visit with friends from Seattle. It was a fast three day trip with some good sailing. We even caught one bluefish!
In Rhode Island, Dan and Pete worked on
Charlotte
while anchored in Pt. Judith Pond, convenienty located near Mike's in Wakefield, RI. On June 20th we moved to Newport Harbor and watched the Newport to Bermuda Race start off Castle Hill that afternoon. We shifted back to Pt. Judith Pond and were joined by Kirsten and Alden on June 30th. Alden enjoyed visiting with his cousins Aden and Carly and some visits to Narragansett beach. On July 3rd we visited the Hallocks in Coles River, where Peter grew up and then anchored off Bristol to watch the 4th of July Parade then spent the evening in Dutch Harbor before once again anchoring in Pt. Judith Pond. Mike had a big family cookout at Wakefield home on the 6th of July.
Virginia Beach-Winter 2007
Life has thrown as a curveball. Kirsten has breast cancer that was diagnosed while we were in Annapolis. We're now in Virginia Beach, staying with Keith and Irene Wolff, Kirsten's father and his wife. "Charlotte" is docked at a private residence on Rudee Inlet's Lake Wesely. I'll continue to work on her while Kirsten is treated and recovers. Alden is in Kindergarten at Birdneck Elementary and enjoying being around other kids. For an update on Kirsten's breast cancer visit: http://www.caringbridge.org/visit/kirstenwolff
September 2007-Newport to Virginia Beach
We sailed from Rhode Island on September 16 and stopped in Galilee before heading down Long Island Sound where we stayed for night at Kings Point. We enjoyed seeing our good friend Captain Eric Wallischeck(prictured below) who is now a deputy superintendant.

Maine - Summer 2007
We've been cruising in Maine since the August 15th, enjoying the company of friends and family in this spectacular region. The weather has been just splendid with good winds, comfortable temperatures and mostly sunny skies. My brother, Mike helped us sail "Charlotte" up from Rhode Island and we had a raucous time when Nancy, Aiden, and Carley Rose met us in Rockland for a week of exploring. A delightful afternoon sail from Rockport to Smith's Cove brought us to anchor off of our friends Ramsey and Anne's cottage where we were treated to a gourmet lobster dinner. The next day we sailed in company with Ramsey to Pond Island and then Buck's harbor. From Buck's Harbor we cruised through Eggemoggin Reach to the merchants and then Rockland where we were joined by our Seattle friends Eric, Renee, and Sophie. Again we were blessed with great weather and the wonderful scenery of Mt. Desert Island and Acadia National park. Returning to Rockland for another crew change, we were happy to have Suzanne Cox join us for five days on Penobscot Bay where we especially enjoyed the Castine area. Right now we're anchored in Hodgdon Cove on the north side of Boothbay Harbor with plans to head for Boston and then Rhode Island. The following are a few photos from Maine.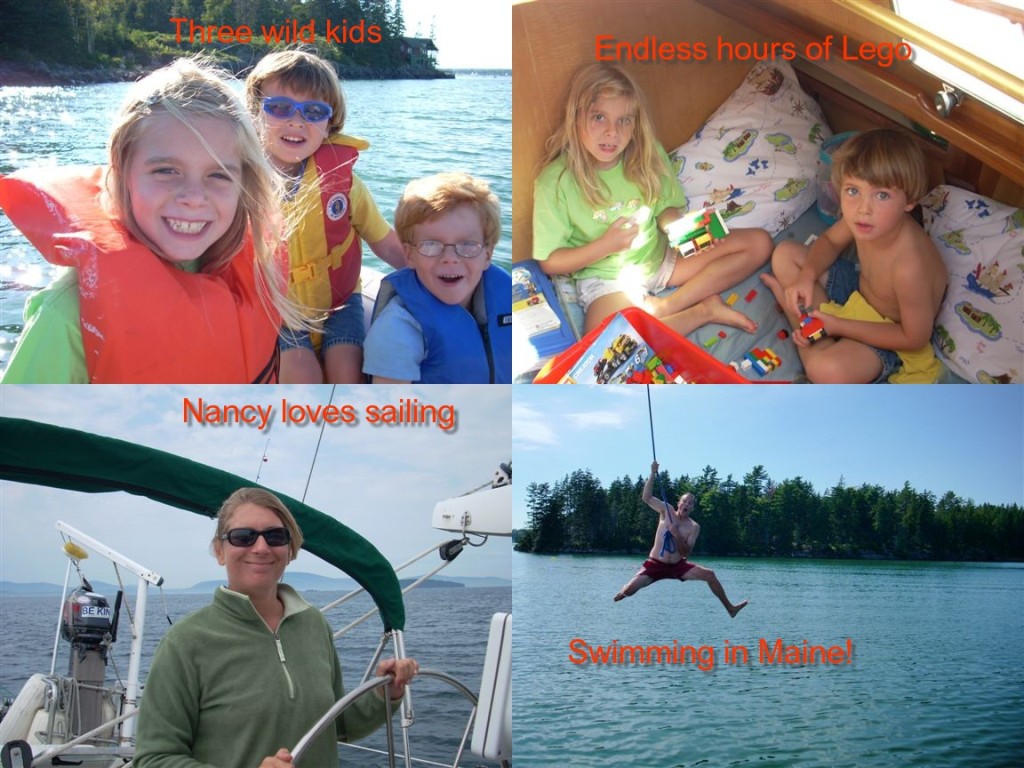 Bass Harbor Head Light

Loster Pots; the nemesis of sailing in Maine

Friend Eric Jensen sailing Charlotte

Somesville Harbor, Somes Sounds, Mt. Desert Island